The double Bachelor's degree program in Chemistry is a cooperation between USTH and reputable French universities. It offers many advantages in terms of qualifications, professional knowledge, foreign language skills and study abroad experiences. 
1. PROGRAM OVERVIEW
As one of the leading universities in training the field of Chemistry, USTH continues to affirm our position with a double Bachelor's degree program in cooperation with prestigious French universities of the USTH Consortium.
Designed to ensure its selective focus and updating of scientific learning content as well as modern teaching methods, the program emphasizes on the practice of critical thinking, self-learning and practical skills. It provides the foundation knowledge of chemical science, its current and future applications such as energy conversion and storage (Li-ion batteries, solar cells, fuel cells, and artificial leaves), smart materials (biodegradable polymers, targeted drugs), environmental analysis, and treatment, development of functional foods, cosmetics, spices, etc. Specifically, the program focuses on equipping students with the ability to access, practice, and exploit the most modern analytical equipment currently used in research, technology development, and industrial production in Vietnam. 
The double bachelor's program in Chemistry consists of 180 ECTS. In the first two years, students will study at USTH with the teaching by USTH lecturers (100% are PhD holders). In the final year, they will transfer to our partner university to complete their study. Students can choose to study at 1 of 3 French universities: University of Aix-Marseille, University of Paris-Est Créteil (UPEC) and Universidad Reims Champagne-Ardenne. Upon graduation, students will be granted two degrees, one by USTH and one by their chosen French university.
The program is expected to bring more opportunities for Vietnamese students who are passionate about Chemistry & Chemical Technology and would like to pursue their study in France, helping them to have better preparation for future careers in a dynamic and international learning environment in Vietnam and France. 
2. OUTSTANDING BENEFITS  
Receiving two globally recognized diplomas granted by French Universities and USTH.

Having outstanding command of English and French to access attractive career opportunities.

Possessing many advantages in seeking jobs or pursuing Master or PhD after graduation in French or other developed countries.

Experiencing a world-class learning environment at well-known French universities of science – technology – engineering.

Enjoying local life, culture, typical dishes, and the famous attractions of France.
3. DETAILED INFORMATION 
Degree

Students will be granted two Bachelor's degrees, one by USTH and one by a French university. 

Training duration

3 years (180 ECTS)

Teaching language

Phase 1 (first 2 years studying at USTH): English.

Phase 2 (final year of study at a French partner university): French (Some subjects at UPEC specifically for international students are taught in English). The graduation thesis is written and defended in English.

In the first two years, students will study French with the target to achieve Delf B2 at the end of the second year, before transferring to France to finish their final year. 

Admission method

Admission method based on USTH Competency assessment examination results

Entry Requirements

Have final results of Grade 11, 12 with  average academic results of 5 subjects: Math, Physics, Chemistry, Biology, Informatics at least 6.50/10

Have an IELTS certificate that achieved a minimum score of 6.0 or a TOEFL iBT certificate with a minimum score of 60

Graduate High school 

Pass the knowledge test and interview organized by USTH
4. ABOUT CO-GRANTING THE BACHELOR'S DEGREE PARTNERS
4.1. Aix – Marseille University (AMU)
Located in the Provence region, southern France, Aix – Marseille University was established from the merger of 3 universities: Provence Aix- Marseille I University, Méditerranée Aix-Marseille II University and Paul Cézanne Aix- Marseille III University. Currently, AMU is one of the largest multidisciplinary universities in France.
AMU was recognized as a high-quality university by the French Academic Advisory Council in 2006 and is among the top French universities. Currently, AMU has 122 research facilities affiliated with large and prestigious French research institutions such as the National Center for Scientific Research (CNRS), the Institute for Research and Development (IRD), the National Institute of Agricultural Research (INRA), Atomic Energy Commission (CEA), … The number of students studying at AMU now is up to 80,000 students.
The Faculty of Science (responsible for the double Bachelor 's degree program in Chemistry) has a rich history dating from the early 20th century. Currently, the faculty has about 11,000 students,  1.200 lecturers, researchers and administrative staff.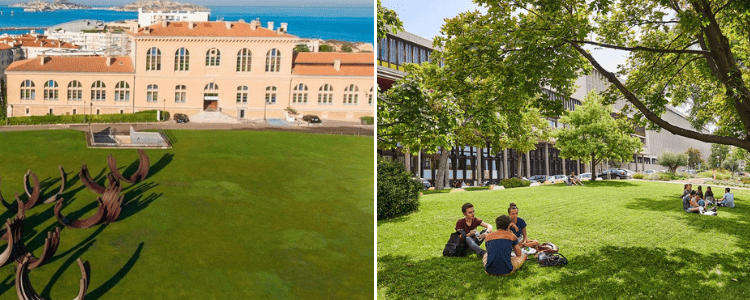 Aix – Marseille University (Source: Website https://www.univ-amu.fr/en)
About Marseille: Marseille is the second largest city in France (after Paris) and the largest port city in France. This Mediterranean coastal city of the Méditerranée is considered the capital of the Provençale region. This place is full of sunshine all year round. Marseille is not only the attractive  bustle of a dynamic coastal city, but also sometimes appears with a peaceful and romantic beauty with many world heritage sites. For football lovers, the Stade Velodrome is a true cathedral, a must-see destination in Marseille.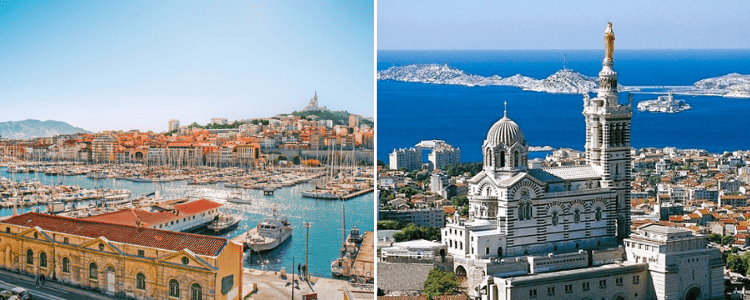 The Old Port (left) và Notre Dame de la Garde (right) – 2 Marseille's best-known symbols (Source: Internet)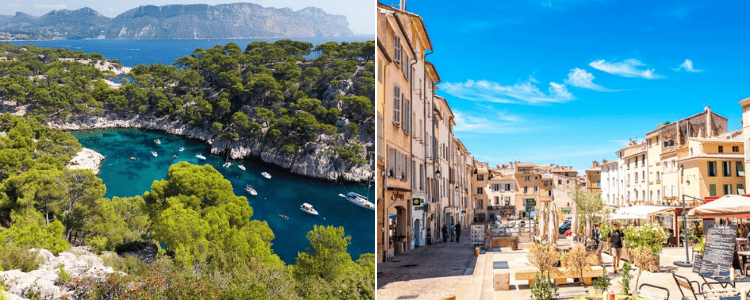 Calanques National Park (left) và The Old street (right) – must – see destinations in Marseille (Source: Internet)
4.2. University Paris Est – Créteil (UPEC)
Established in 1970, Université Paris Est Créteil (known as Paris 12) is one of the largest multidisciplinary public universities in the Île-de-France region and the leading reputation in France. UPEC currently has 32,000 students studying at 16 faculties, research institutes, schools on 16 campuses.
In addition, UPEC also owns 33 modern laboratories, 9 of which belong to the Faculty of Science and Technology, which is in charge of the double degree program in Chemistry. That shows UPEC's strong investment and priority in Chemistry and also in science – technology. There are 250 lecturers, scientists, 75 administrative and technical staff of the faculty. They constantly strive to create an ideal learning environment for students, towards the goal of training scientists, managers with high expertise.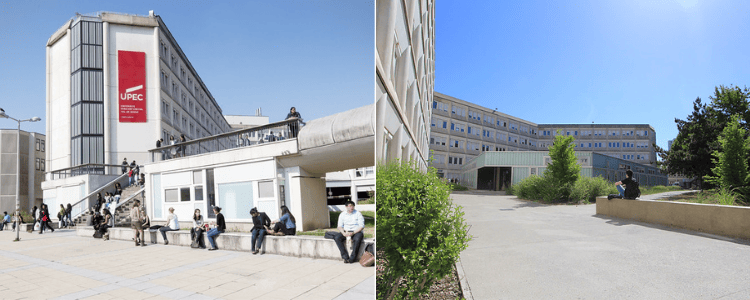 Center of Créteil – 1 of the main study places for students majoring in Chemistry (Source: website https://www.u-pec.fr/)
About Créteil City: located in the East of Paris and only 12 km from Paris-Notre-Dame. Créteil is really an ideal and worth-living place for those who adore ancient natural beauty and would like to enjoy a peaceful European-style life. Traveling from this city to the places of Île-de-France is very easy and convenient, allowing you to fully explore the poetic scenery, outstanding cultural heritages and the entertainment centers of France.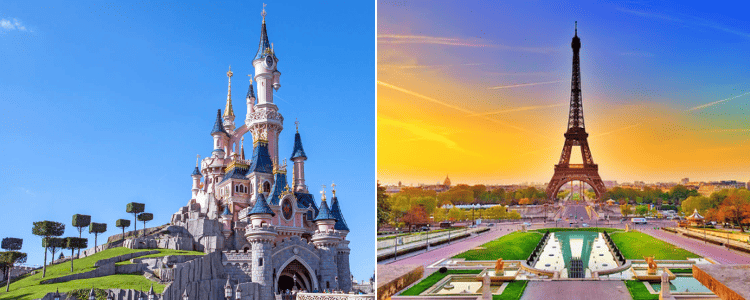 Disneyland Park (left) and Eiffel Tower (right) – 2 famous destinations inÎle-de-France (Source: Internet)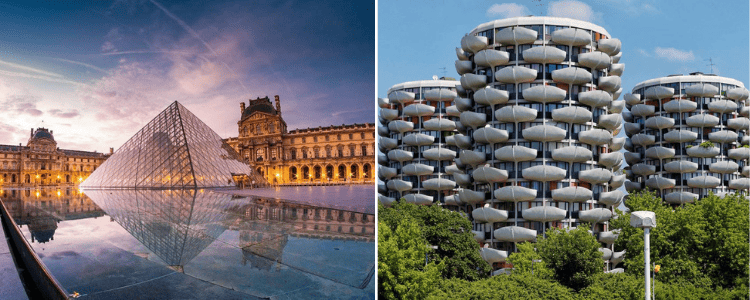 Louvre Museum (left) and Les Choux de Créteil (right) – the city 's great architectural structure (Source: Internet)
4.3. University of Reims Champagne-Ardenne (URCA): 
Established in 1967,  the University of Reims Champagne-Ardenne (URCA) is the only public university in the city. Currently, URCA has nearly 29,000 students in 5 campuses, nearly 2,500 lecturers, researchers and administrative staff, and 32 research groups. Chemistry belongs to URCA's Faculty of Science which has the longest history with lots of achievements in teaching and research.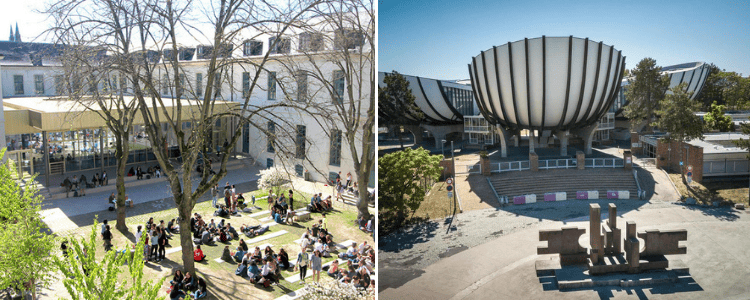 The University of Reims Champagne-Ardenne (Source: Internet)
About Reims: Located at the heart of the areas of activity of Ile-de-France, the Rhineland, northern Europe and Italy, Reims is known as "City of Coronations" or "City of Kings". It is not only famous for being an ancient city but also a production center of champagne, textile products, food and equipment for the field of space. Coming to Reims, you will be overwhelmed by its architectural landmarks and various cultural activities.
Some famous destinations in Reims: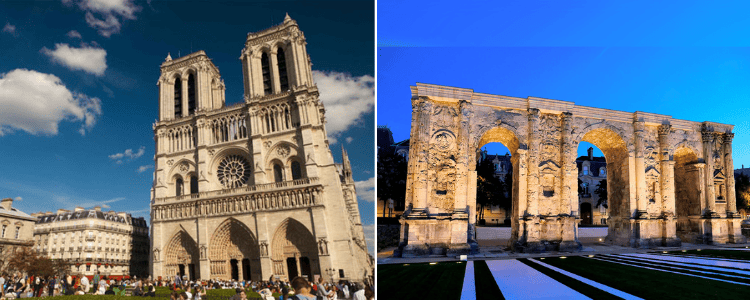 Cathedral of Notre-Dame  (left) and Porte de Mars (right) (Source: Internet)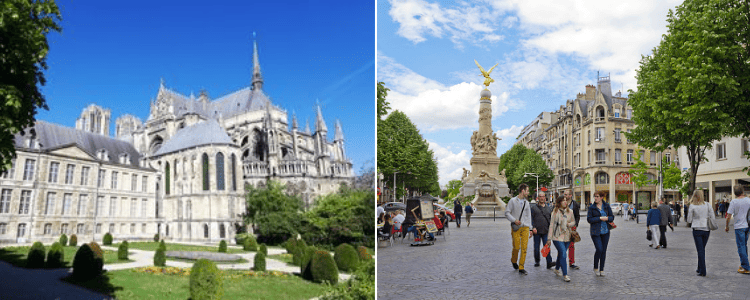 The Palace of Tau (left) and Place Drouet d'Erlon square (right) (Source: Internet)
5. CONTACT 
About the training program: 
Department of Fundamental and Applied Science (FAS)
Tel: 0243 791 8618
Email: fas_dept@usth.edu.vn
Add: Room 703, 7th floor, A21 building, University of Science and Technology of Hanoi
Department of Academic Affairs (DAA)
Tel: 0247 772 7748
Email: admission@usth.edu.vn
Add: Room 102, 1st floor, A21 building , University of Science and Technology of Hanoi