The main goal of the undergraduate program in  Applied Environmental Sciences at USTH is to bring our students to an internationally recognized level in the field of Environmental Sciences applied to research or industry applications. The program was built by top scientists and lecturers from Vietnam and France aiming at training highly qualified engineers and researchers.
Through this specialty, the program will provide the necessary background and knowledge to the students on the current environmental issues (climate change, industrial and agricultural pollution of water, soil and air). After the three years of bachelor program, the graduated students will be specialized in bio-physico-chemistry processes that respect our environment and will be able to improve processes and chemical reactions that they may face in industry. Graduates will be known for their commitment to lifelong learning, social responsibility, professional and ethical responsibilities in implementing sustainable solutions; they will also excel in critical thinking, problem solving and effective communication.
With a strong scientific background associated with practical classes and applied techniques, graduated students will have the opportunity to carry on their study in master degree or to join public or private companies.
1. PROGRAM CURRICULUM 
Program Overview
The Bachelor of Science and Technology training program is administered by USTH using the Bologna process (3 years-180 European ECTS credits). In the first year of study (60 ECTS), students will be equipped with basic knowledge including natural sciences (mathematics, physics, chemistry and biology), informatics and English courses. He complements and strengthens. In the second year (60 ECTS), students will be provided with basic industry knowledge including: ecology, environmental water chemistry, soil science, oceanography and hydrology, concepts of soil, water and air pollution. In the third year, the training program is oriented to equip knowledge about (1) the application of technology for analysis, assessment and management of environmental quality; (2) apply advanced science and technology to handle environmental problems such as: water pollution treatment, land pollution treatment. In order to complete and apply the foundational and specialized knowledge of Applied Environmental Science, students will have to complete the "Major Assignment" and the "Group project" before proceeding independently for 3 to 6 months of internship for graduation thesis.
Practice and Final Internship
During the graduate internship, students in Applied Environmental Science have the opportunity to intern at top universities or research institutes in the field of environment abroad (such as France, Germany, Japan, Norway, Thailand, Philippines…) or in Vietnam (such as: Nha Trang Oceanography Institute, Institute of Marine Environment and Resources, University of Science – Vietnam National University, Hanoi University of Science and Technology, Vietnam Academy of Agriculture, …). Through these activities, students will apply theory into practice, gain a comprehensive and synthetic view of the application of the knowledge learned in a real-life context.

A field trip in Nha Trang of student's WEO Department

Students take samples and practice in WEO's laboratory at USTH
In addition, during the final internship, students of WEO also have many chances to work at top research institutions in Vietnam and abroad on the hottest environmental issues.

Marine biology internship in Philippines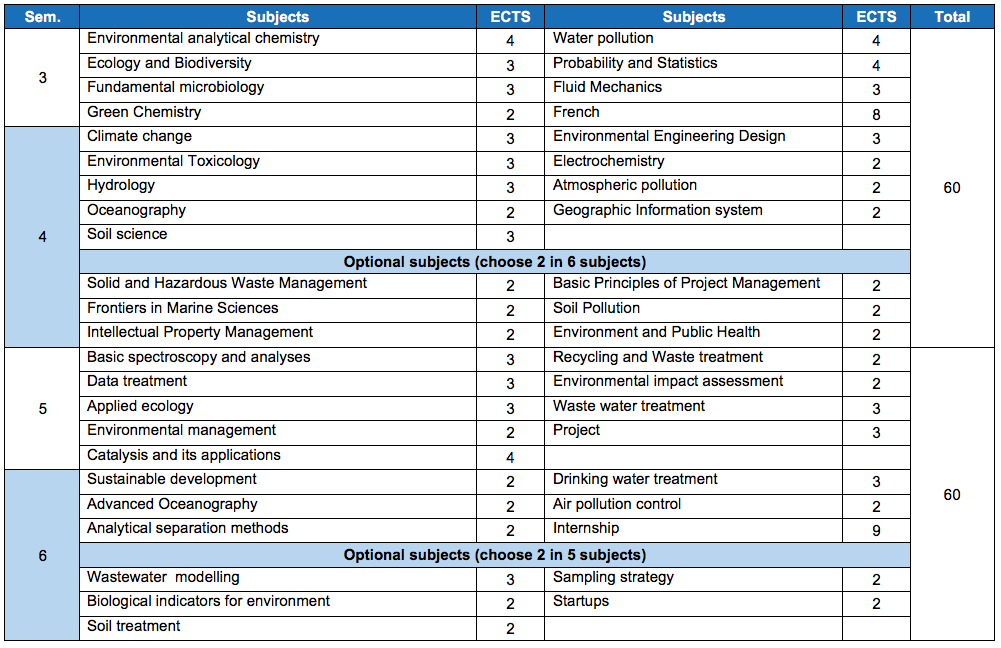 2. PROGRAM OUTCOMES 
The Applied Environmental Sciences program outcomes include the ABET outcomes as well as the program-specific outcomes. These outcomes are detailed for each course in the next section of this document and are all listed here:
Solid professional knowledge to adapt to various working positions:
Ability to research, test, improve, design and develop technology solutions in the field of environment
Understanding and be able to develop the influence of science and technology to deal with environmental issues in the context of globalized society
Consulting and supervising management in the field of Environmental Science
Personal skills and competencies:
Ability of reasoning, evaluating and solving problems effectively
Being dynamic, creative in experimenting and decoding knowledge
Having professional ethics, integrity, seriousness and responsibility
Teamwork and interpersonal skills in an international environment:
Having effective leadership and teamwork skills
Be able to communicate using various methods such as text, electronic/multimedia communication, presentation, persuasive argument, effective negotiation
Fluently English skills, IELTS ≥ 6.5.
3. CAREER OPPORTUNITIES 
3.1. Higher studies and research careers
This Bachelor's degree will entitle you to enroll in the "Master in Environment" at USTH or any of the master's degree courses offered in related to the environment in Vietnam. In addition, we offer many opportunities for internships or higher studies in more than 60 universities and research institutions in Europe such as France, Germany, the Netherlands, … Graduates will have a great chance to become advisors, teachers or researchers at one of our partners' establishments in Vietnam and abroad.
3.2. Business and industrial careers
The career potential for graduates of the program in Applied Environmental Sciences is promising. Graduates would be ideal candidates for jobs in most organizations where a major emphasis is on environmental aspects that will be more and more critical. With a strong scientific background associated with practical class and applied techniques in environmental sciences, you will be able to take up entry-level job positions in business and industry, especially in:
Climate change and related environmental issues
Environmental impact assessment
Green chemistry applied to chemical industry
Water and air quality monitoring and treatment
Recycling and waste and soil treatment
Sustainable development
Any career in the environment within national and international companies based in Vietnam such as Veolia, Compagnie National du Rhône, Bosch, Sanicon, SEEN, or Non-Governmental Organizations (NGO)…
4. CONTACT INFORMATION 
–  About the training program: 
Department of Water – Environment – Oceanography (WEO)
Tel: (+84-24) 37 91 72 06
Email: weo_dept@usth.edu.vn
Add: Room 306, 3rd floor, A21 building, University of Science and Technology of Hanoi
– About Admission: 
Department of Academic Affairs (DAA)
Tel:+( 84-24) 7772 7748
Email: admission@usth.edu.vn
Add: Room 102, 1st floor, A21 building, University of Science and Technology of Hanoi