University of Science and Technology of Hanoi (USTH) was established in 2009 under the Intergovernmental Agreement between Vietnam and France. Since its establishment, USTH has consistently received strong support from both the Vietnamese and French governments, particularly from Vietnam Academy of Science and Technology (VAST)- its governing body to develop the facilities for training and research.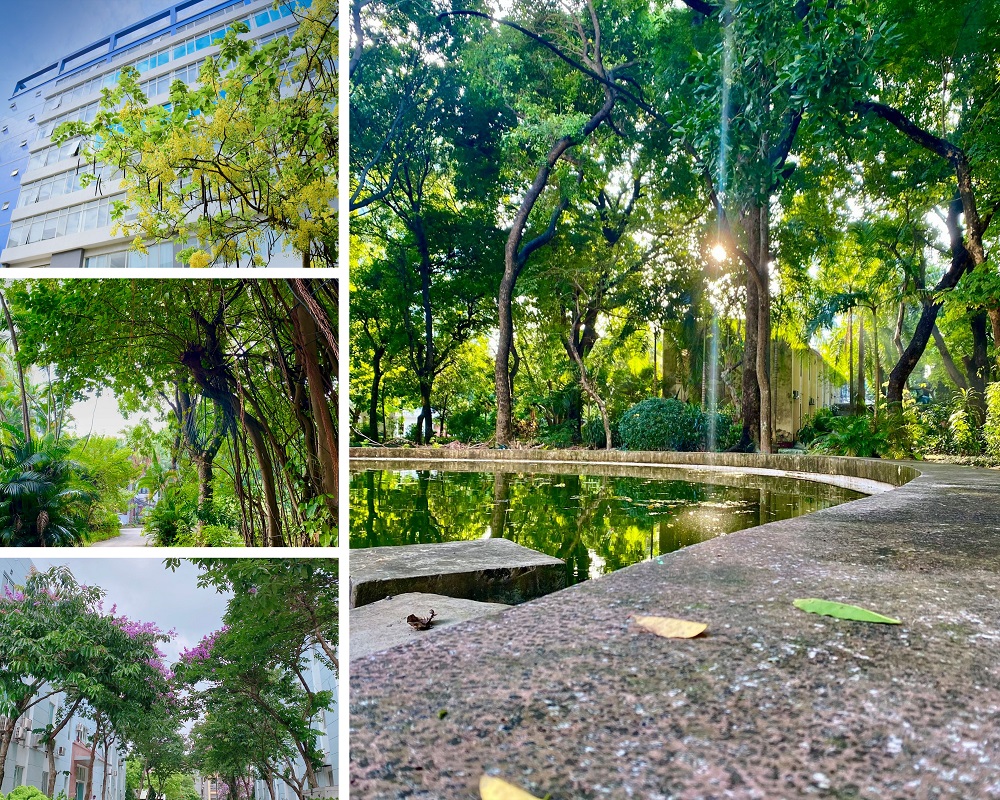 Campus of Vietnam Academy Science and Technology 
USTH has a total area of over 19,000 square meters, including approximately 5,100 square meters for 70 classrooms and 7 large auditoriums, and about 2,667 square meters for laboratories and practical rooms.
USTH has been granted the right to use the A21 building located within the campus of VAST with a total floor area of 8,500 square meters. This is the main headquarter and workplace for the administrative and academic departments. USTH has one large lecture hall with 350 seats, 5 multimedia classrooms, 2 international joint laboratories, 28 research laboratories, 20 practical laboratories, and 01 studio. All of them are equipped with modern facilities that adhere to international standards. 
Furthermore, thanks to the unwavering support from VAST, USTH has signed collaborative agreements with research institutes, and research and development centers under VAST to increase the number of classrooms and laboratories serving the growing scale of training. USTH has forged cooperative ties with the following institutes/centers: Institute of Geography, Institute for Tropical Technology, Institute of Marine Biochemistry, Institute of Space Technology, Institute of Environmental Technology, Information Data Center, High-Tech Development Center, and Graduate School of Science and Technology with a shared area of  2,200 square meters.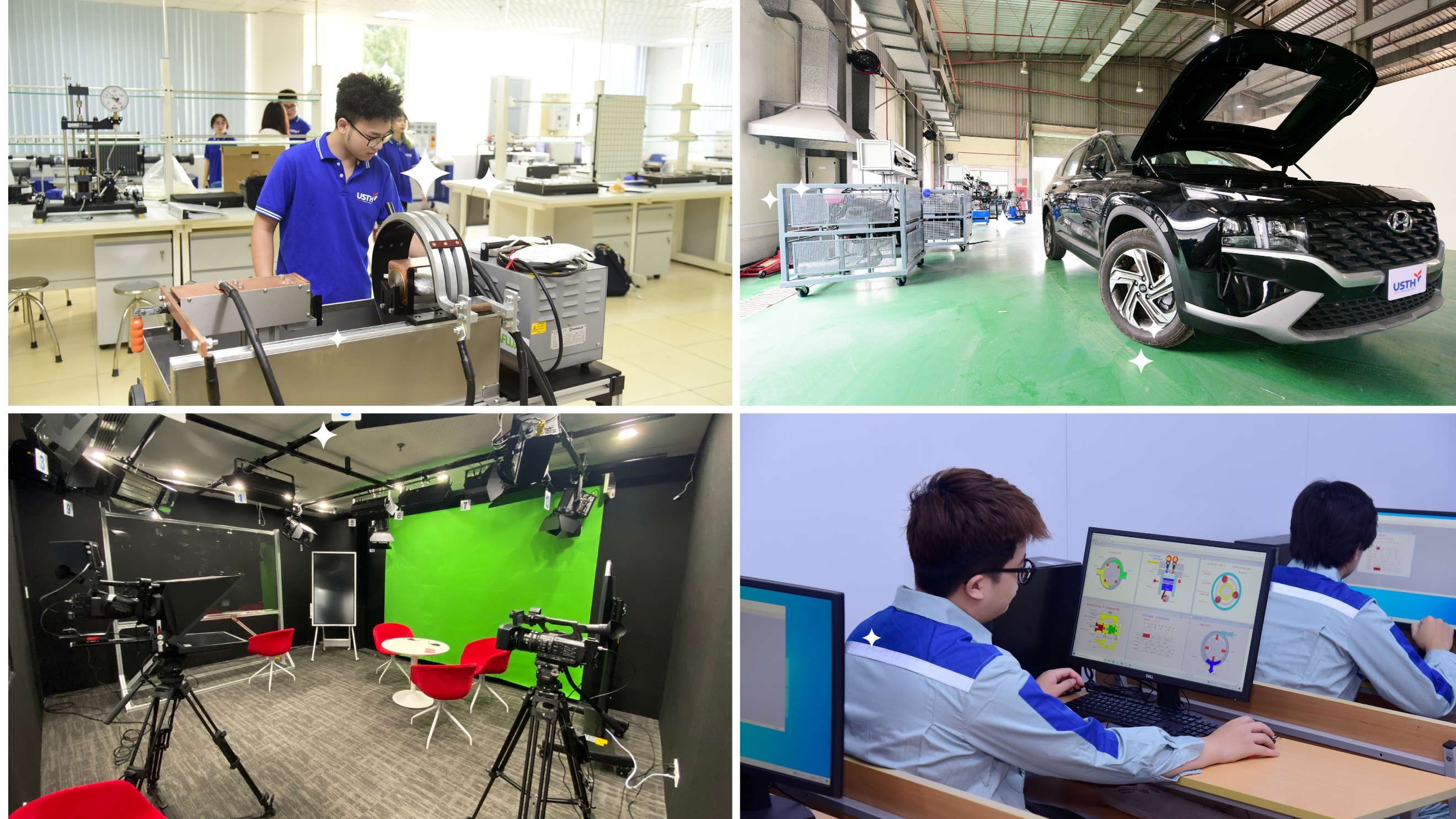 Moreover, VAST has granted USTH the right to use the 2H building located within its campus with a total area of 4,400 square meters. The University plans to renovate and refurbish the building with an expected completion date of late 2023. The building includes 1 basement and 7 floors with 22 classrooms ranging from 30 to 60 seats and 3 large auditoriums with a capacity of 170 to 200 seats.
Outside the campus of VAST, at 84 Chua Lang Street, Institute of Geology supports USTH with 14 classrooms having boards, projectors, and computers. Additionally, there is an 80-seat hall equipped with sound and lighting systems, catering teaching activities, and conference and workshop organization.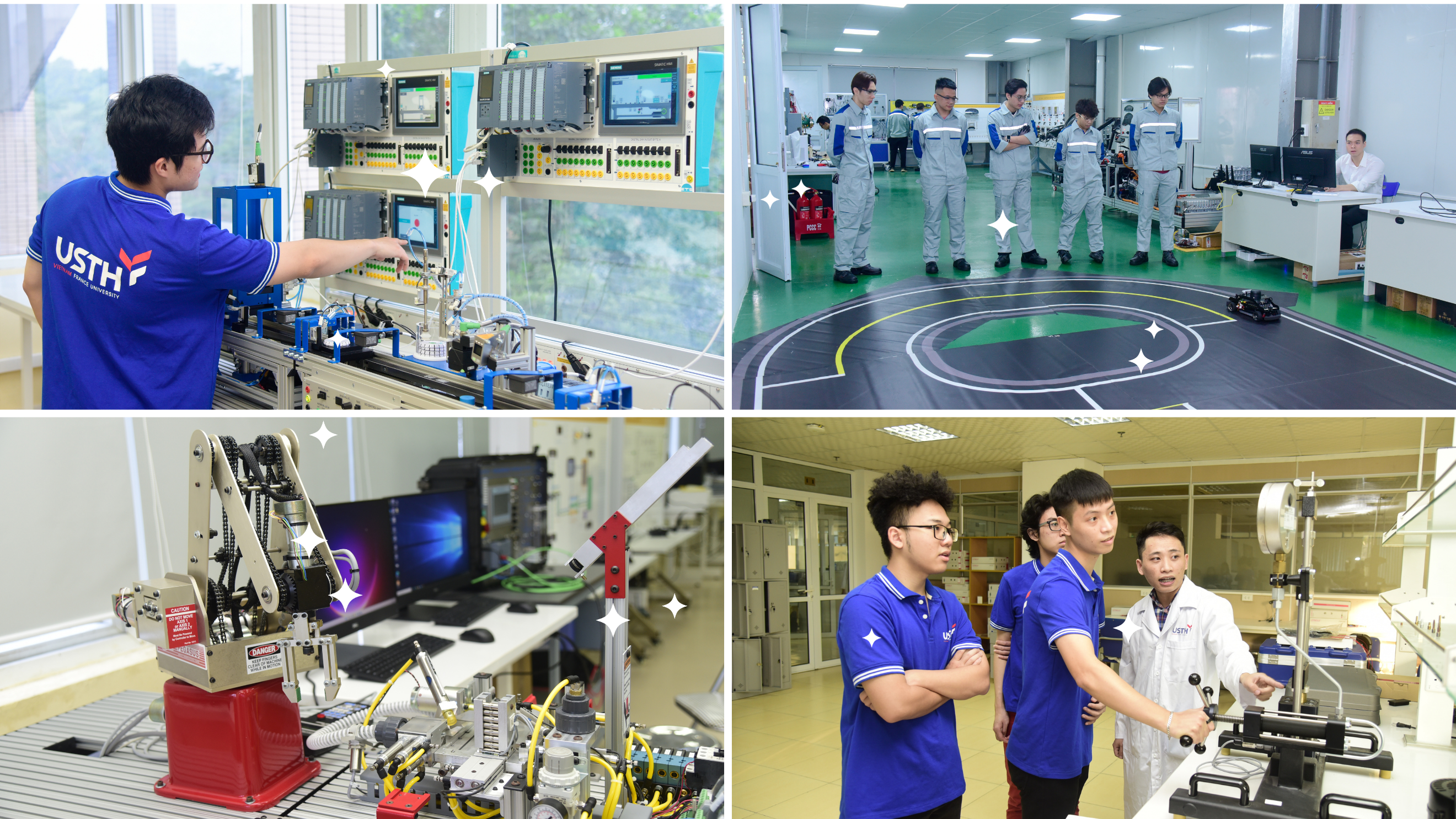 State-of-art facilities at USTH 
USTH's automotive garage is situated in the Co Nhue Research and Technology Implementation Zone, occupying an area of nearly 600 square meters. Here, students gain hands-on experience working with car dissection models, ignition systems, electrical systems, and sensors from renowned global automobile manufacturers.
In Hoa Lac High-Tech Park, USTH is given the authority to use a total area of 1,200 square meters at the VNREDSAT-1 small satellite project building. With 3 floors and 16 rooms, USTH arranges practical laboratories for the programs in Electronics and Electrical Engineering Technology, Applied Environmental Sciences, and Aeronautical Engineering.
On September 27, 2021, the construction project for USTH commenced in the Hoa Lac High-Tech Park, spanning a 36-hectare area with a total investment of 178.87 million USD from an ADB loan. Currently, the project is progressing rapidly, aiming for completion by the end of 2025. Once finished, USTH will emerge as a comprehensive university, featuring state-of-the-art facilities such as classrooms, laboratories, sports facilities, libraries, and dormitories, all built to international standards. The university is poised to become one of Vietnam's leading institutions for training, research, and technology transfer in the future.