On January 22, 2021, The University of Science and Technology of Hanoi (USTH) solemnly held the Graduation Ceremony for Doctoral, Master, and Bachelor students of the year 2020.
Attending the event was Prof. Etienne Saur- Principal Rector, Assoc. Prof. Dinh Thi Mai Thanh- Rector, Dr. Nguyen Hai Dang-Vice-Rector; Directors of Departments, lecturers, staff as well as new Doctoral, Master, Bachelor graduates with their friends and families.
To open the ceremony, Prof. Etienne Saur congratulated the new graduates for their achievement and praised their efforts during the time they study at USTH and especially in the last academic year when they have faced up many obstacles because of the Covid-19 epidemic. They not only had to take online classes with much less direct interaction with lecturers but also had to delay/ postpone their internship abroad.
Prof. Etienne Saur emphasized that it is the difficulties they have overcome making the degrees they obtain today more meaningful and valuable. He expressed his hope that each new graduate will become an USTH's ambassador, helping to spread the words about USTH to the community.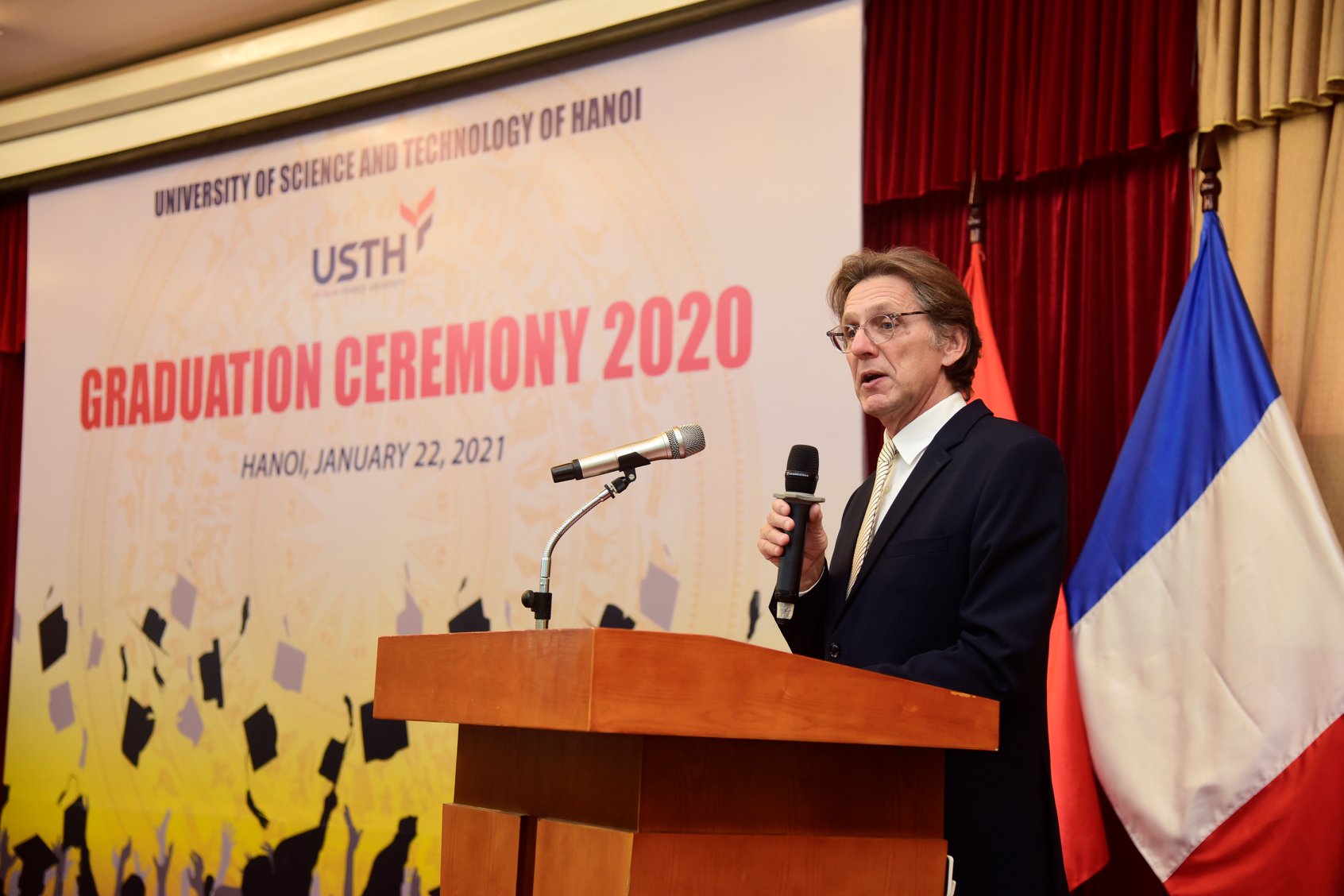 Prof. Etienne Saur also thanked the lecturers and staff for their dedication, enthusiasm, and responsibility, which have played such an important role in the success of the University and the graduates today.
He would like to share the joy with the parents of the graduates and on behalf of the University to thank them for choosing USTH as a destination for their children to study and grow professionally.
In the solemn atmosphere of the ceremony, Dr. Nguyen Hai Dang announced the decision to grant diplomas for 1 Doctoral student, 49 Master students, and 144 Bachelor students.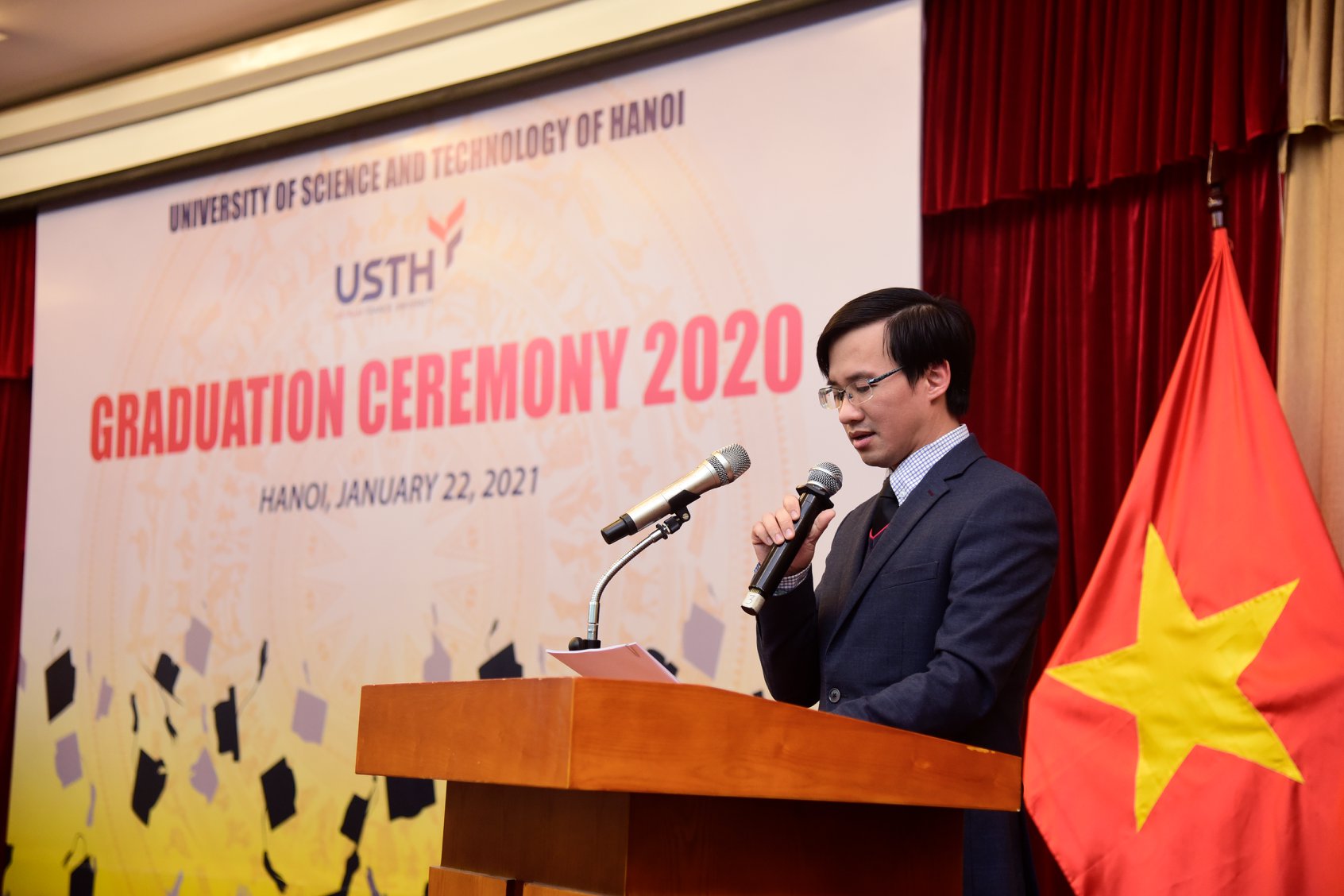 This year, USTH has decided to grant certificates of merits and rewards to 39 Bachelor students and 4 Master students with excellent and good academic performance.
To close the ceremony, on behalf of the class of 2020, Pham Tuyet Ngoc Linh, a graduate of the Medical Science and Technology program recalled the unforgettable memories with the lecturers and friends at USTH. She also expressed her gratitude to the Rector Board, lecturers, and staff for always providing the best support and assistance to the students.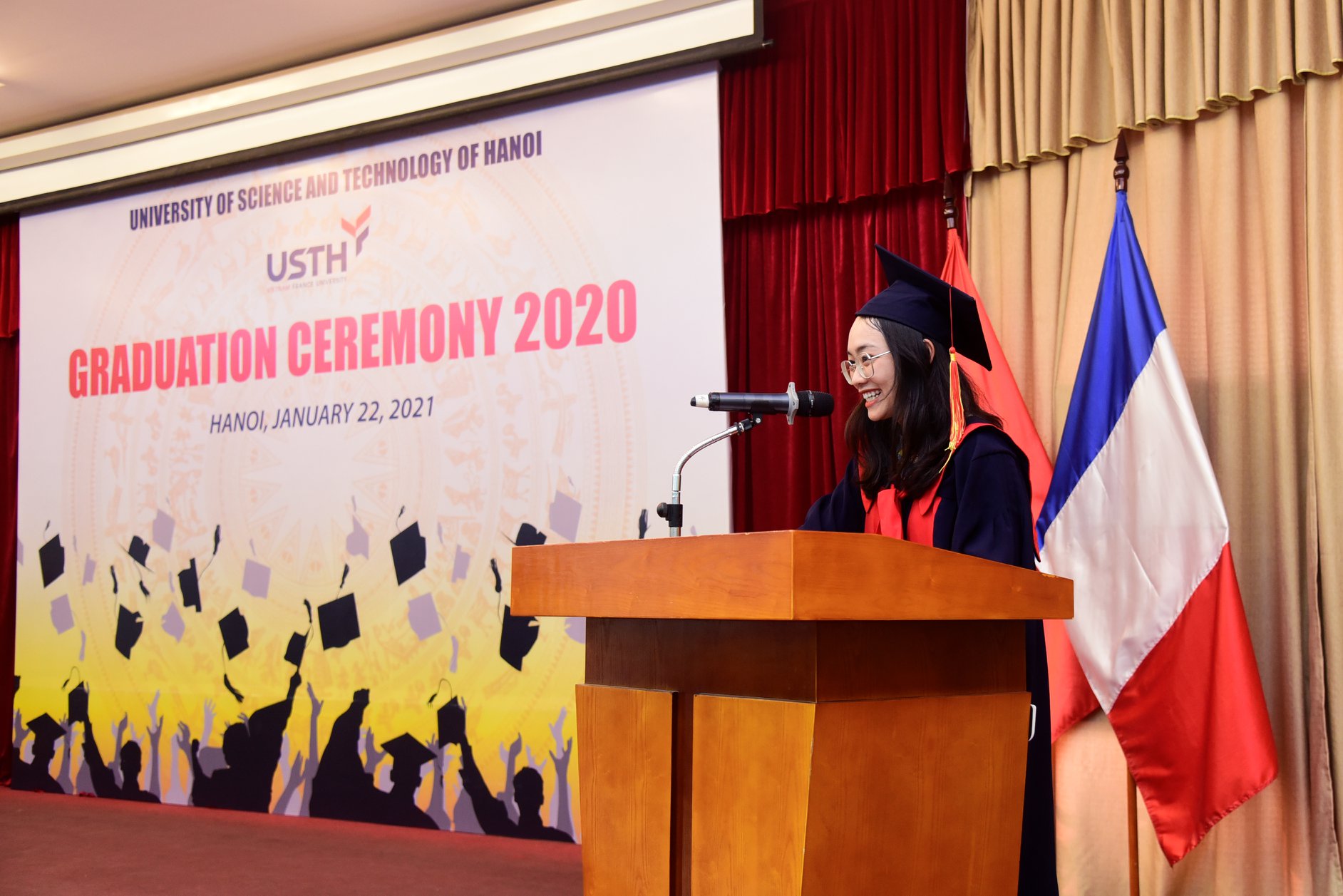 Ngoc Linh also sent meaningful messages to all the new graduates about their future journey: "Do whatever you want to do. Be a researcher. Be a student. Be a musician. Be all of them at once. It's possible. Why? Because we are USTH graduates. We have walked through fire and flames. We are burned and scarred, but strong and resilient. We might lack sleep but never lack passion. And as long as we have the will to move forward, we will make it far. So get out there and let the world know our names. It's time for us to fly."
Once again, congratulations, class of 2020! We hope that you always keep your passion for science and succeed in the path you choose.
Memorable moments of the ceremony: