On December 15th, 2021, the University of Science and Technology of Hanoi (USTH) had a meeting with representatives of Viettel Group on the collaborative plan in 2022.
Participating in the meeting, on USTH's side, there were Assoc. Prof. Dr. Dinh Thi Mai Thanh, Rector, Dr. Nguyen Hai Dang, Vice Rector, representatives of academic departments and International Cooperation Department of USTH; on Viettel's side, there were Ms. Nguyen Thi Thuy Hanh – Deputy of Human Resources Department – Viettel Group, Mr. Do Manh Hung – Director of the Satellite System Design Office – Viettel Aerospace Institute, Mr. Vu Tuan Duc – Director of Technical and Technology Center – Viettel High-Tech Industry Corporation and managers and specialists of Viettel Group.
At the meeting, based on the upcoming Memorandum of understanding signed between the Vietnam Academy of Science and Technology (VAST) and Viettel on training, human resource development, researching, developing and transferring technology, exploiting and developing infrastructure, Viettel's representative presented a collaborative plan with USTH in 2022 with 4 main contents: internship program for USTH students; sharing experiences; training Viettel personnel and other activities such as seminars and conferences.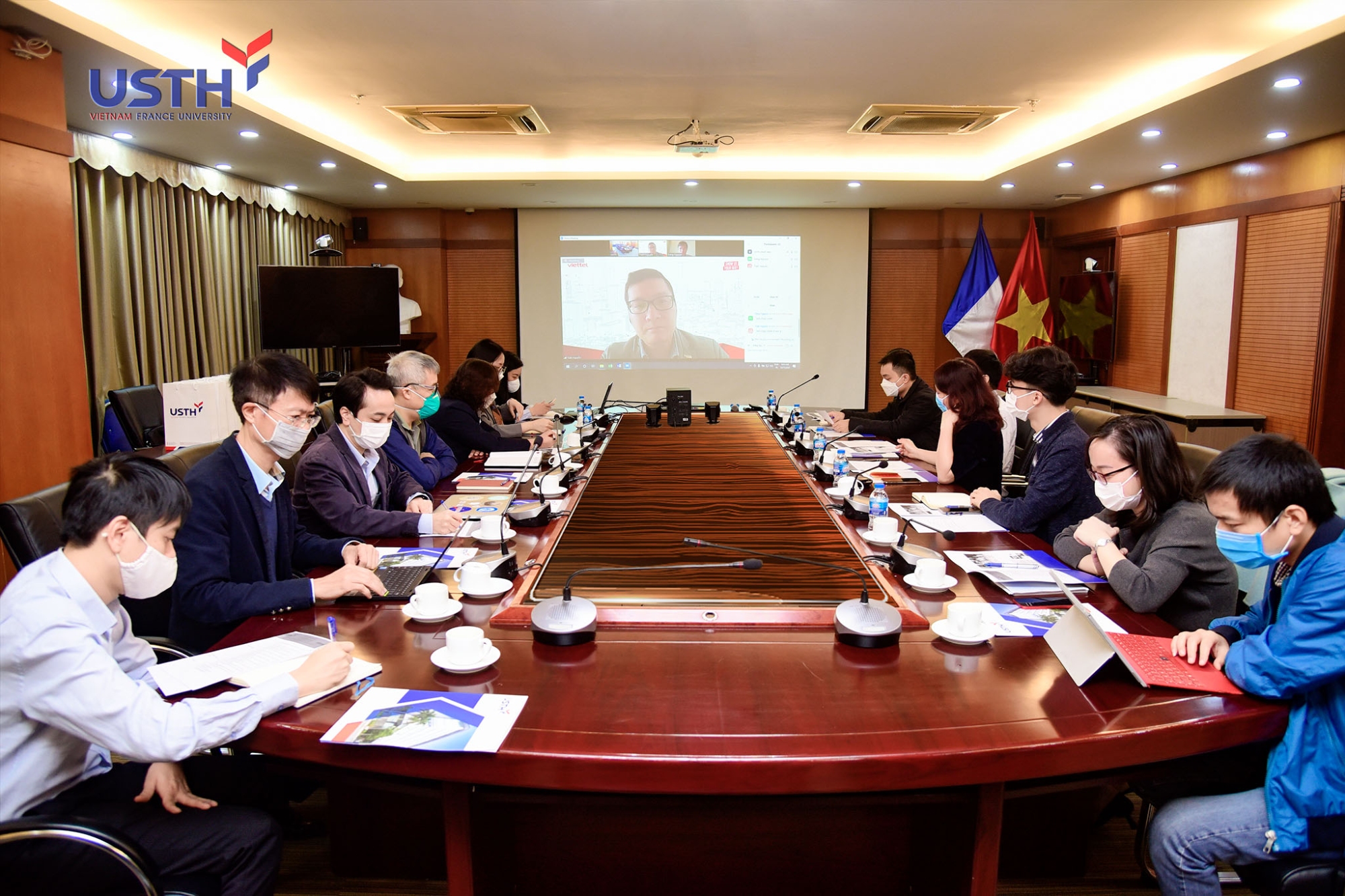 Regarding the internship program for USTH students, Viettel will accept at least 20 students from 05 academic programs including: Space and Applications, Information Security, Data Science, Information Technology and Communication, Applied Mathematics internship at Viettel in 2022.
On the subject of experience sharing, Viettel's leading experts will participate in teaching and making suggestions to USTH's training programs in order to help students meet the requirements of businesses when they find jobs. Moreover, Viettel experts will participate in the judging councils for master's and doctoral theses and join other activities of USTH such as Information Day, Space Day, workshops, seminars…
About the content of personnel training for Viettel, the Group will encourage employees to participate in USTH's master's and doctoral courses, especially evening, weekend, and non-full-time programs, while USTH will have Tuition reduction policy for Viettel employees.
In relation to other activities, Viettel will participate in career orientation day, co-organize specialized seminars and international conferences, establish Summer School, Winter School for USTH students in order to share knowledge and look for talent, and at the same time promote the Viettel brand.
Especially, at the meeting, USTH and Viettel agreed to add one more content of long-term collaboration in research activities, namely to open a joint laboratory at USTH so that Viettel's high-qualified engineers and USTH's talented lecturers and students can study and research together in the fields of information technology and space.

At the end of the meeting, representatives of USTH and Viettel both expressed their desire to build and develop a close long-term collaborative relationship and expect the success of future projects.