Prof. Jean-Marc Lavest has started his position as the Principal Rector of  USTH since Oct 1, 2021. Let's listen to his heartfelt sharing about his journey to USTH and expectations for the upcoming years with our young and dynamic university. 
Journey to Vietnam and to USTH
Prof. Jean-Marc Lavest graduated from the Electrical Engineering program and obtained a PhD in Artificial Vision from the University of Clermont-Ferrand, France. Since then, he has held many management positions at prestigious universities and research institutions in France as well as abroad. Sharing about his journey to Vietnam, Prof. Jean-Marc Lavest said: "For me, the decision to come to Vietnam for work was a memorable turning point. I had worked in Asia from 2009 to 2014 and had known USTH. In 2020, I was appointed as the Director of the Organization of Francophone Universities (AUF) for the Asia-Pacific region and from that opportunity, I was able to learn more about USTH. What makes a strong impression on me is USTH's unique training model, which shows the strategic vision of the Vietnamese government in investing in higher education. Taking advantage of France's strength in science-technology-engineering training, USTH develops high-quality programs that follow and anticipate the future human resource needs of Vietnam."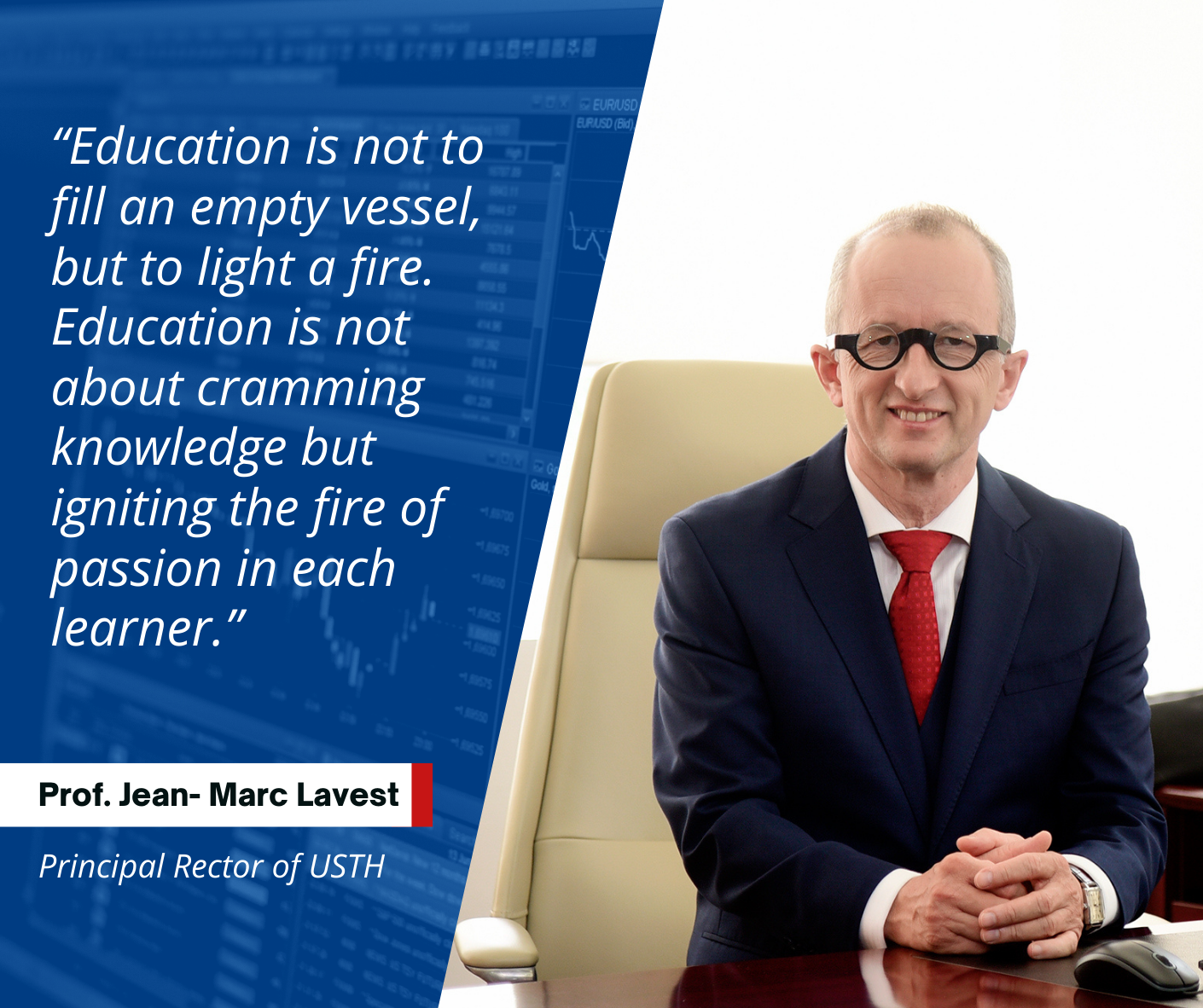 In the context that the world economy is undergoing a strong shift to a knowledge-based economy and in the era of globalization and economic integration, human resources, especially high-quality human resources play a more and more critical role. According to Prof. Jean- Marc Lavest, in recent years, Vietnam has achieved impressive progress in economics and is highly appreciated by economists for its potential for future development. In order to reach out and be on par with other countries in the region and the world, Vietnam needs to make a breakthrough, moving towards mastering technology and becoming a leader in the fields of science and technology. The most important key of this process lies in people, especially high-quality human resources – people equipped with high-level knowledge and skills at not only bachelor but also at master and doctoral levels as well as creative capabilities and ability to quickly adapt in the fiercely competitive job market.  Therefore, the model of universities like USTH is very necessary and will become an inevitable trend in higher education."
Prof. Jean-Marc Lavest said that after more than 10 years of establishment and development, USTH is carrying a strong growth momentum and entering maturity in many aspects. Being trusted by the Vietnamese Government and the French Government to entrust the position of Principal of USTH to him is a joy and an honor but also associated with great responsibility. "How to promote the strengths of USTH in parallel with improving the quality of training and research in order to improve the position of USTH among universities  in Vietnam, in the region and in the world is the goal which I and all the staff, lecturers, and students of USTH are working hard day by day to achieve." Prof. Jean- Marc Lavest emphasized.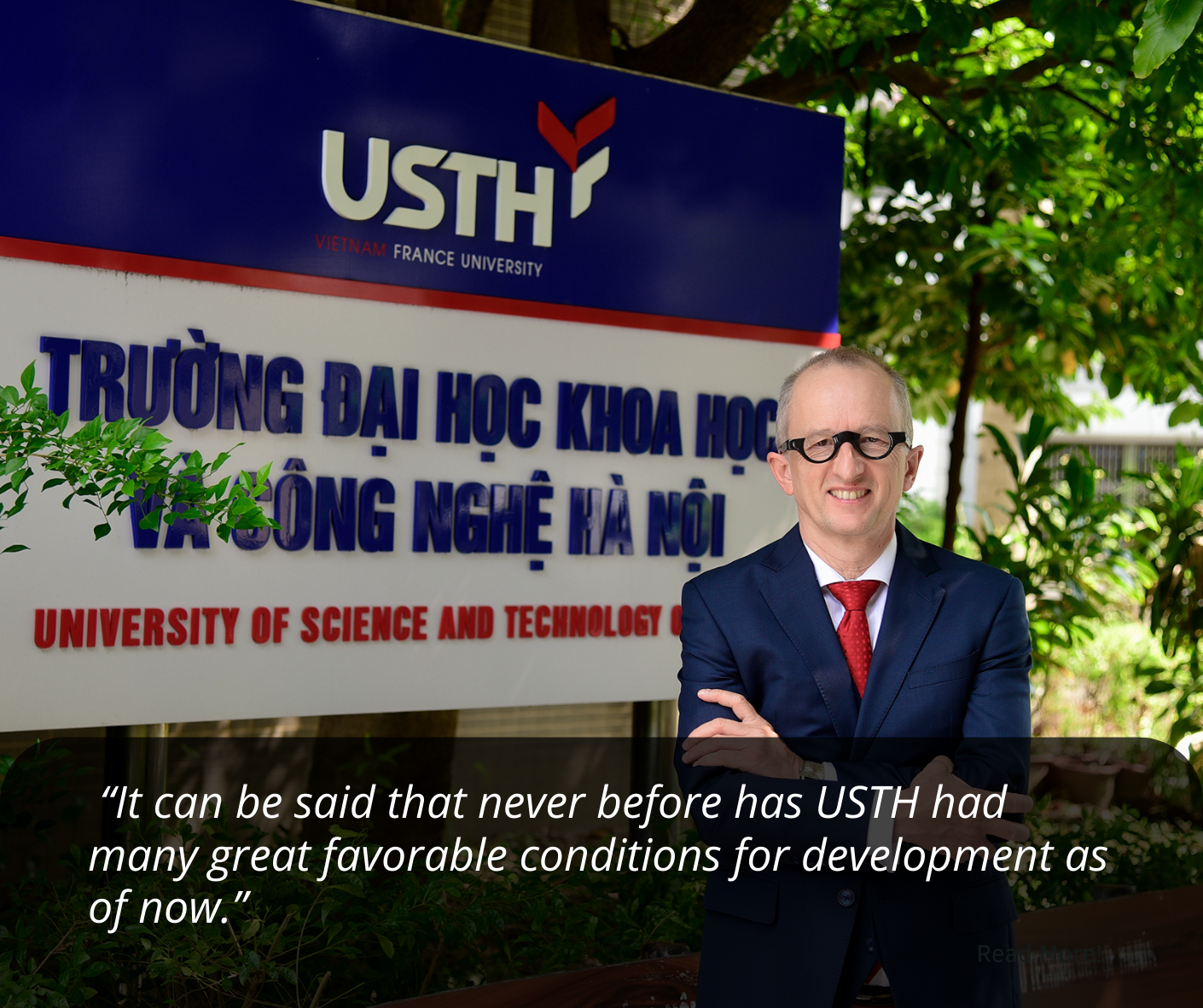 Heading toward the future
According to Prof. Jean- Marc Lavest, "Education is not to fill an empty vessel, but to light a fire. Education is not about cramming knowledge but igniting the fire of passion in each learner."  Despite working at USTH for a short period of time from October 2021, he has been deeply impressed by the core value and educational philosophy, which the generations of leaders, staff, lecturers, and students of USTH have been pursuing for the past 10 years.
USTH has been creating an academic environment of integrity, openness, a smooth combination between the two cultures of Vietnam – France, converging talented, enthusiastic, and compassionate young people. USTH has also become a place where every scientific passion, every creative idea is cherished, nurtured, and created conditions to flourish. Prof. Jean-Marc Lavest believes that it is these core values ​​that contribute to USTH's own color and difference.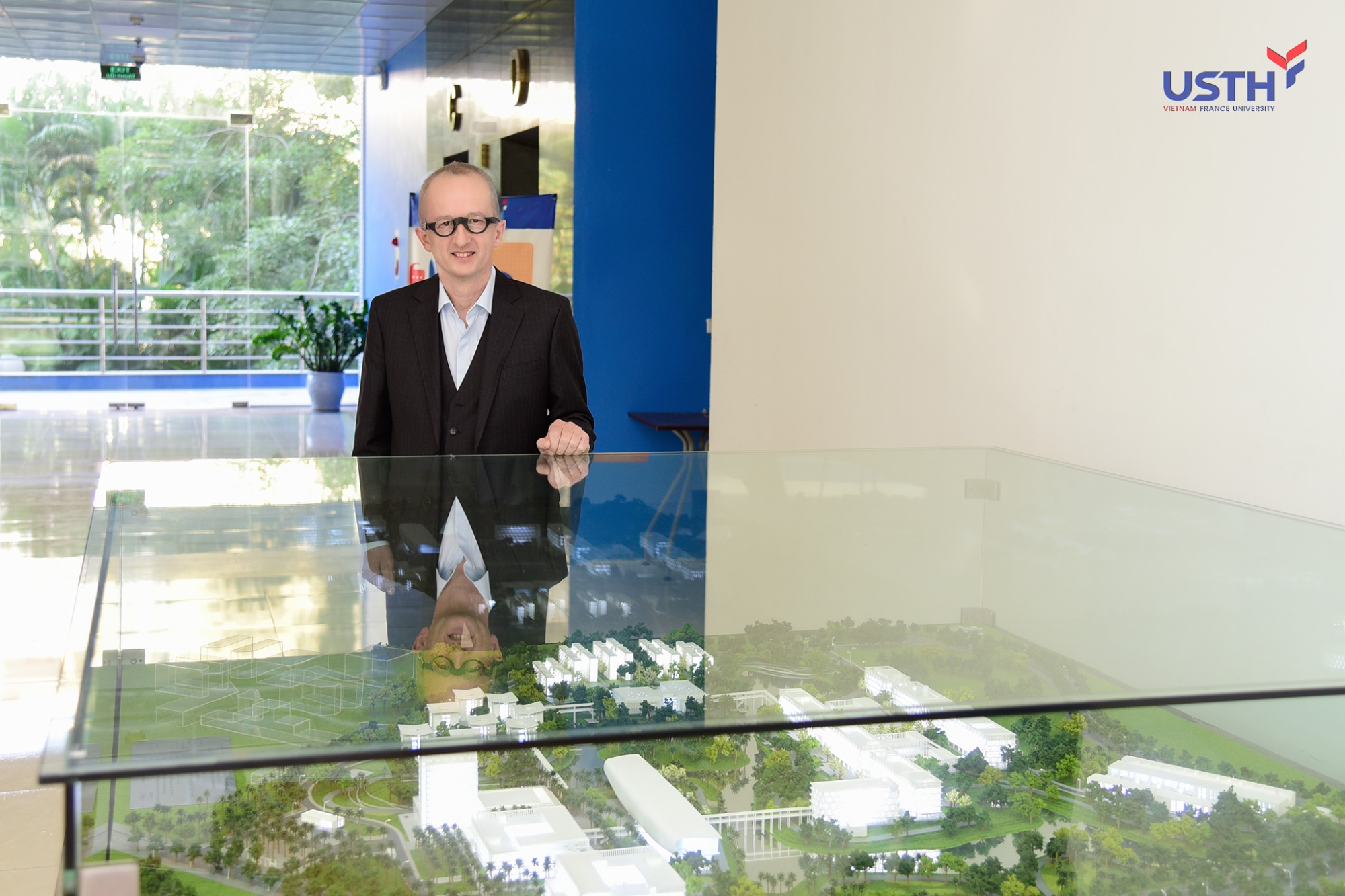 In the coming years, entering the phase of sustainable development and expansion, USTH will face many new challenges and opportunities. For the university to be able to turn challenges into opportunities, all will depend greatly on the people of USTH, on our staff, lecturers, and students. They not only play a vital role in the development of USTH but also represent as the "ambassadors" to spread the image and the reputation of USTH. Prof. Jean-Marc Lavest expressed his strong belief in the people of USTH whose energy, enthusiasm, dynamism, and creativity will drive the university strongly moving forward."
As the largest and most ambitious cooperation project in higher education between Vietnam and France, USTH's strength also lies in the strong support from many sides, including the Government of Vietnam, the Government of France, the Vietnam Academy of Science and Technology, the Consortium of 40 French Universities and Research institutes. "It can be said that never before has USTH had many great favorable conditions for development as of now". Prof. Jean-Marc Lavest affirmed.
Currently, USTH has been actively implementing many activities to improve the quality of training and research as well as expand the network of cooperation in parallel with investing in modern facilities and equipment so that students can access advanced education with the same standard as in French and European universities right in Vietnam.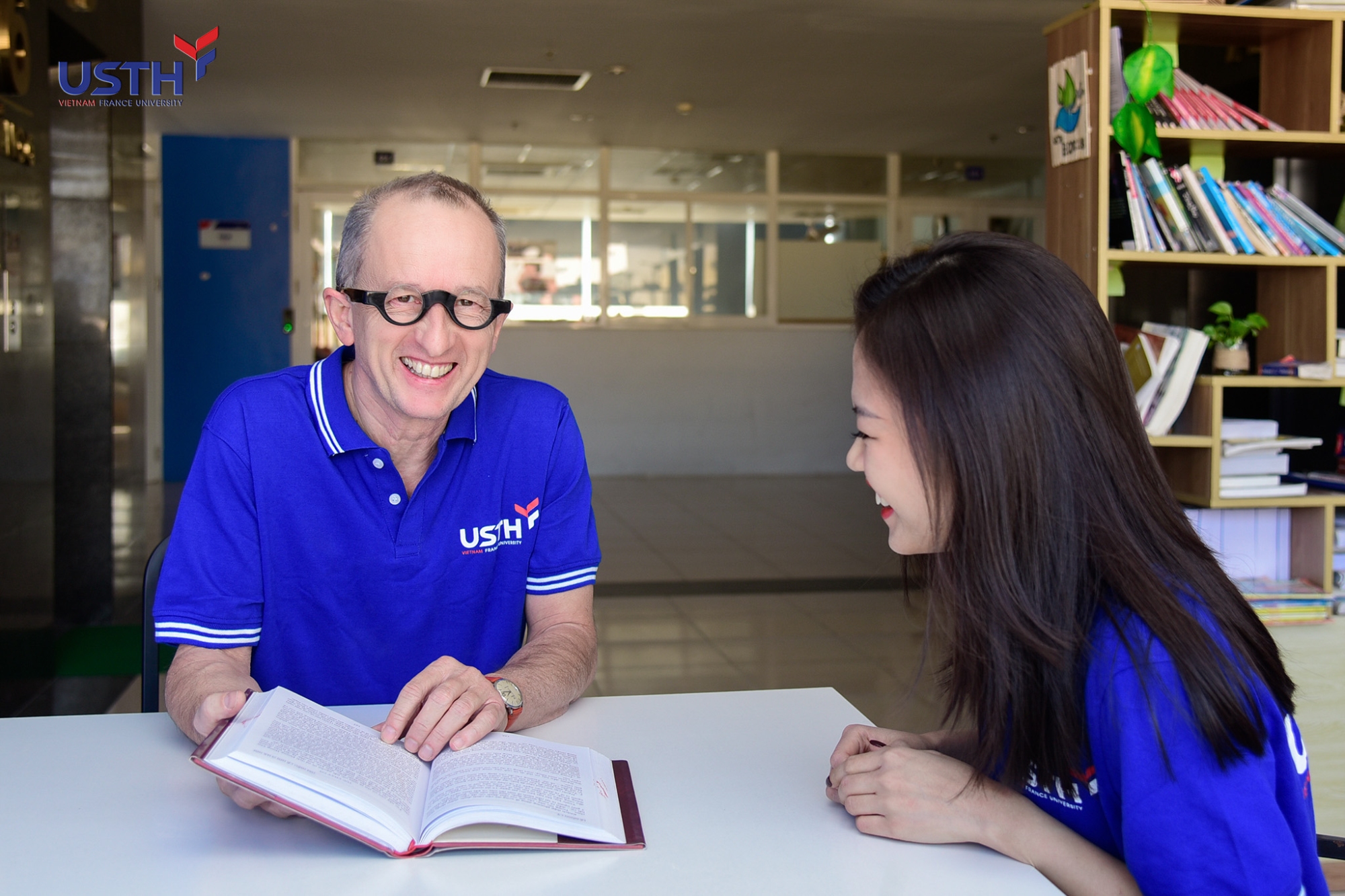 Heading towards 2023, a year marking the 50th anniversary of diplomatic ties and the 10th anniversary of the strategic partnership between Vietnam and France, USTH aims to complete many important projects, which play a significant role in our development. In terms of training, USTH is going to cooperate with French member universities of the USTH Consortium to launch Vietnamese- French double degree bachelor's programs in Chemistry, Information, and Biotechnology as well as open a new program in Pharmacy, increasing the total number of the training programs of USTH to 17.
In order to create a solid foundation for the growth in quality and quantity of our training and research activities in the upcoming years, thanks to the support of the Government of Vietnam through Project 89, USTH will be able to send 200 excellent candidates overseas for PhD training to become USTH future lecturers.
In addition, the construction project of the USTH campus, which started in September 2021 and is expected to be completed in 2023, will turn USTH into a university with international standard facilities as French and European universities.
Prof. Jean-Marc Lavest sent a message to the staff, lecturers, and students of USTH: "When we put on the blue uniform of USTH, we have become USTH and USTH has become us. Let's work together to drive USTH forward and continue to write many more success stories, contributing to the bilateral relationships between Vietnam and France"