Advanced Materials Science and Nanotechnology (AMSN) Department is one of the first two departments to be set up at the origin of USTH, recruiting its first students in 2010 and 2011 for its Master's and Bachelor's courses respectively. In 2021-2022, the team manages 46 Bachelor students on 2 courses (AMSN and EPE: Engineering Physics and Electronics), as well as 4 Master students and 3 PhD students.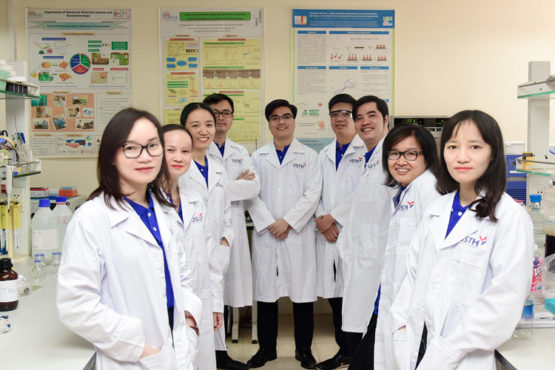 The team, led by Prof. Jean-Christophe Lacroix (University of Paris) and Dr. Nguyen Van Quynh, includes 08 permanent lecturers – researchers from USTH at the end of 2021, all holding a doctorate from France.
In 2021, the AMSN team published 26 SCIE publications, ranking 1st within the USTH.
AMSN Department owns 06 research directions namely: Molecular electronics & Plasmonic Electrochemistry, Molecular design and Organic synthesis, Microfluidics and sensing devices, Magnetoelectric materials and Applications, Photonics, Optophotonics and Nanophysics and simulation.
Find out more about the AMSN Department's researcher profile as below and click here for more information on their publications.
———————————
Molecular electronics & Plasmonic Electrochemistry
Molecular design and Organic synthesis
Microfluidics and sensing devices
Magnetoelectric materials and Applications
Photonics, Optophotonics
Nanophysics and simulation