The École nationale de l'aviation civile (ENAC) (French Civil Aviation University) is the largest aeronautical university in Europe and the only aviation-oriented university in France offering a wide and complete panel of aeronautics-oriented degree bearing programs and continuing & professional education programs, serving the aeronautical world, and particularly the air transport sector.ENAC in partnership with USTH opens the first Master of Science in International Air Transport Operation Management (IATOM) in Vietnam and in South East Asia. IATOM is a two year-degree accredited by the French Ministry of Education for those students who hold a Bachelor's degree in a relevant subject. The courses are taught entirely in English to embed students in an international research and training environment. The students will study for 01 semester at the USTH campus and the next 2 semesters at ENAC campus in Toulouse, France. In the final semester, the students will take internships in Vietnam or any Asian/European country.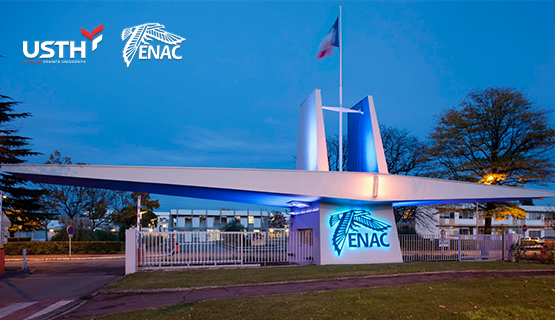 1. The program's objectives 
The MSc IATOM aims at training future high-standard managers in the aviation industry for airlines, airports, aerospace manufacturers and sub-contractors, authorities, and air navigation services providers. The program develops competencies and skills in a large range of fields related to the operations and management of Air Transport Systems.
The purpose of the MSc IATOM is to deliver fundamentals knowledge in aerospace engineering, including aerodynamics, fluid mechanics, flight mechanics, aircraft structures, navigation systems, as well as foster competencies, such as using cutting-edge programming tools to work in the air transport industry.
Additionally, the program allows students to acquire in-depth understanding related to economy and management, especially in the field of air transportation. Accordingly, graduates are maximized all managerial potentials and well prepared to become great leaders in both local and international contexts.
2. An international exposure 
The Air transport industry is a dynamic market with remarkable evolutions over the past 30 years, particularly in the Asia-Pacific region. Accordingly, this industry is generating a huge demand for highly qualified staff in both maintenance and operation.
Being fully aware of this tremendous need, ENAC is building up a strong international network by fostering mutual cooperation with companies and universities worldwide in the field of aviation, to support the MSc IATOM. Such prestigious partners as HKUST, BEIHANG, ITB, PSUAD, USTH will help ENAC in training future international leaders of the aviation industry, who are able to cope with the today's economic and social problems, thus gain success in this competitive and globalized market.
Admission requirements:

Bachelor Degree in Aerospace Engineering, Mechanics, Mathematics, Mechatronics,  Physics
English Language qualification:

TOEIC: 785
TOEFL ITB : 85
IELTS : 6.5
Cambridge Advanced Grades C & B
Or equivalents
Tuition fee: ~1986 euros for semester 1 at USTH, ~4820 euros per semester at ENAC
Scholarship: Students can apply for the GIFAS scholarship program in 2023. For further information, please visit https://bit.ly/3ThinAY and https://bit.ly/3lcOAwA

Master IATOM admission schedule 2023 for information:

4. Contact
– Mr. Michel CHAUVIN, Postgraduate Program Manager at ENAC