Each year we welcome a number of international students, especially from France to study and do their research at USTH. To most of them, it is the first time they have been to Vietnam. To help them quickly become familiar with the USTH community and Vietnamese culture, we are going to host a welcoming event named "Nice to meet you" for the newly arrived international students with the information below: 
Time: 14:00-17:00, November 18, 2022. 
Location: R. 402, 4th floor, USTH Building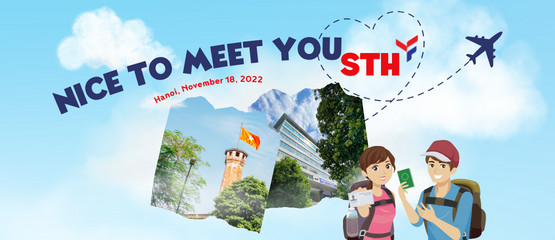 The goal of the event is to provide the newcomers the opportunity to learn about USTH and meet their future lecturers and friends in a warm and relaxing atmosphere. 
There will be light refreshments and fun activities for the participants to socialize and make new friends. 
AGENDA 
Schedule
Activities
Content

Part 1

13:45 – 14:00
Check-in
14:00 – 14:05
Introduction
Introduce participants and program.
14:05 – 14:20

Concert

–     Performing of guitar and flute

–     Performing duet song "Bonjour Vietnam" (French and Vietnamese students)

14:20 – 14:25
Speech
Welcome speech by USTH Rectorate
14:25 – 14:35
Speech
Speech of the representatives of the ICO and DSA: General introduction about USTH and about student life in Vietnam; disseminating regulations at USTH, introducing clubs and activities for students, communication channels of USTH for international students.
14:35 – 14:40
Introduce the international students at USTH
Video

Part 2

14:40 – 15:00
Individual mini-game (Kahoot)
Quiz about cultural knowledge in Vietnam, and about USTH. Participants answer the quiz through the app Kahoot using their smartphones or laptops
15:00 – 16:00
Group mini-game: Making spring rolls
Introduction to ingredients and spring rolls.

Participants will be divided into groups to compete in making spring rolls.

Party
16:00 – 17:00
Finger food party