On November 1st, 2022, University of Sciences and Technology of Hanoi (USTH) had a meeting and working session with Prof. Dominique Baillargeat – Director of the CNRS representative office in ASEAN and CEO of CNRS@CREATE.
Participating in the meeting, on the side of USTH, was Prof. Jean-Marc Lavest – Principal Rector, Assoc. Prof. Dinh Thi Mai Thanh – Rector, Dr. Nguyen Hai Dang – Vice Rector, Assoc. Prof. Tran Dinh Phong, Vice Rector, Mr. Luc Le Calvez – Director of Direction of Research, Innovation and Technology Transfer, Dr. Vu Thi Thu – Deputy Director of Direction of Research, Innovation and Technology Transfer, Assoc. Prof. Ngo Duc Thanh – Co-Director of Department of Space and Applications, Dr. Sylvain Ouillon – Director of Department of Water – Environment – Oceanography, Dr. Tran Giang Son – Co-Director of Department of Information and Communication Technology, Dr. Nguyen Van Quynh – Co-Director of Department of Advanced Materials Science and Nanotechnology, Dr. Nguyen Thi Kieu Oanh – Deputy Director of Department of Life Sciences.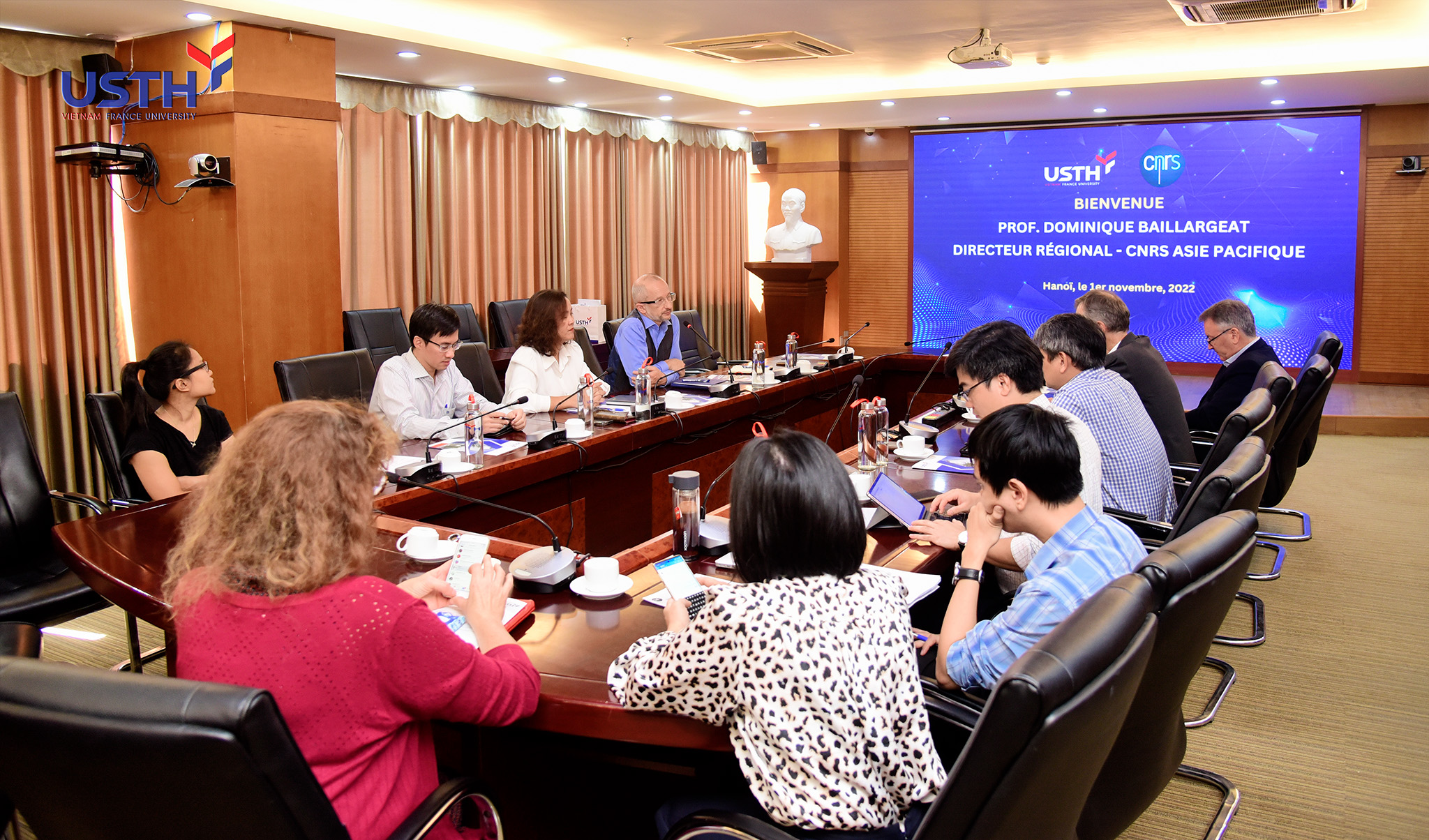 After the welcome speech, Prof. Jean-Marc Lavest and Prof. Dominique Baillargeat presented to introduce USTH and CNRS, especially in the field of research.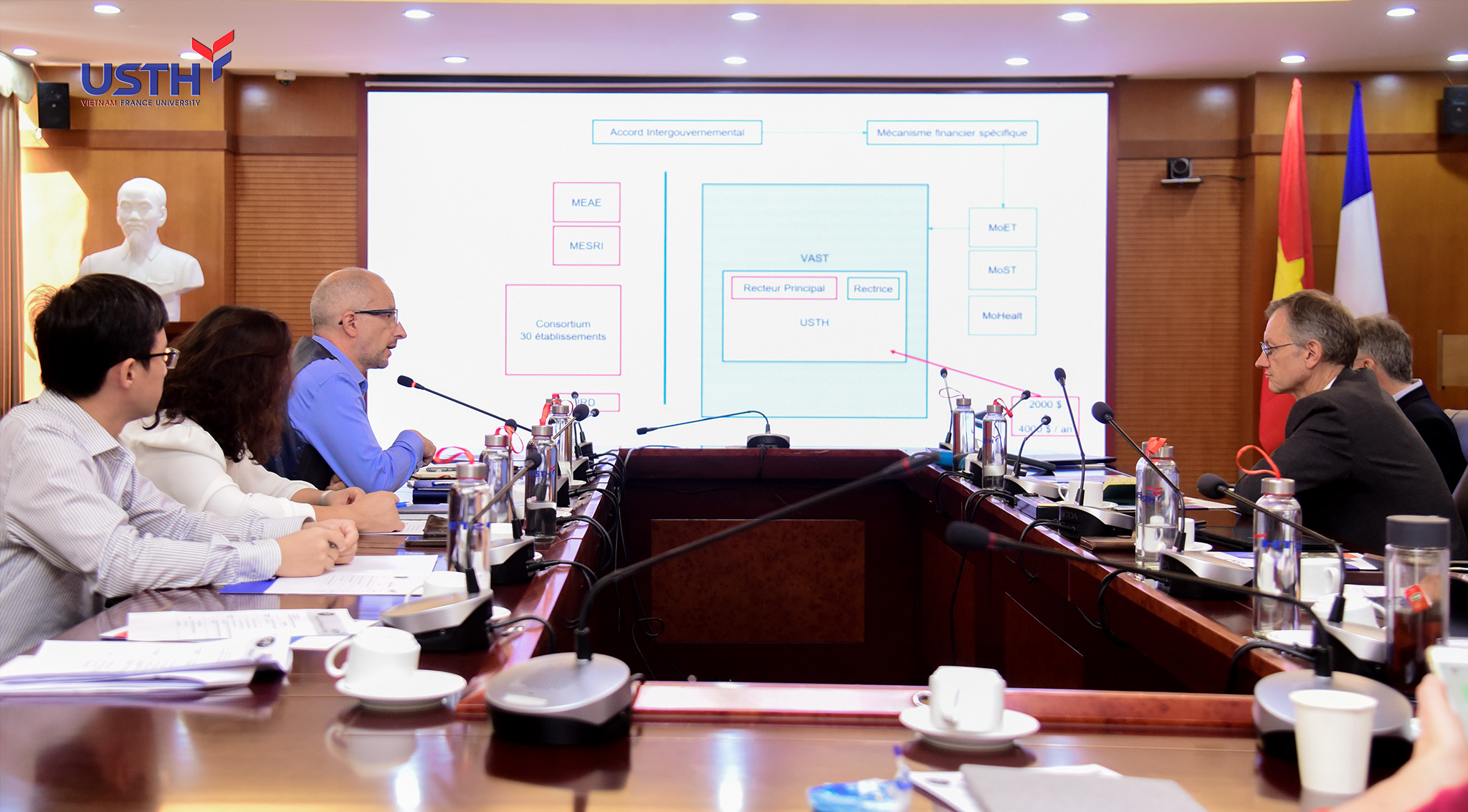 USTH aims to become a world-class research university with long-term academic values and high applicability to socio-economic development. The current major research areas of the University include artificial intelligence, data science, and machine learning; applied biotechnology in smart agriculture; health care, advanced materials; recycled energy; remote sensing; environment; combating climate change and sustainable development.
With the strong supports of VAST, the French Embassy in Vietnam, the Consortium of more than 30 French universities and research institutes, the French Institute of Research for Development (IRD) and with the investment from the Government of Vietnam, USTH has built 4 international joint laboratories and many talented young research groups, bringing the participation of many excellent and experienced scientists at universities, research organizations of Vietnam, France, and other countries.
Up to December 2021, USTH had 414 science publications in prestigious international magazines in the list of SCI, SCI-E. On average: 1,5 articles in the list of SCI & SCI-E/1 lecturer/1 year. For three consecutive years from 2017 to 2019, USTH was in the Top 10 NATURE INDEX of Universities and Research Institutes with high-quality international publications in Vietnam.
90% of USTH lecturers hold Ph.D. degrees and above and gained experience in teaching methods and conducting research. Over 50% of lecturers are from universities and research institutes in France, USA, Japan, Australia, South Korea, and Japan.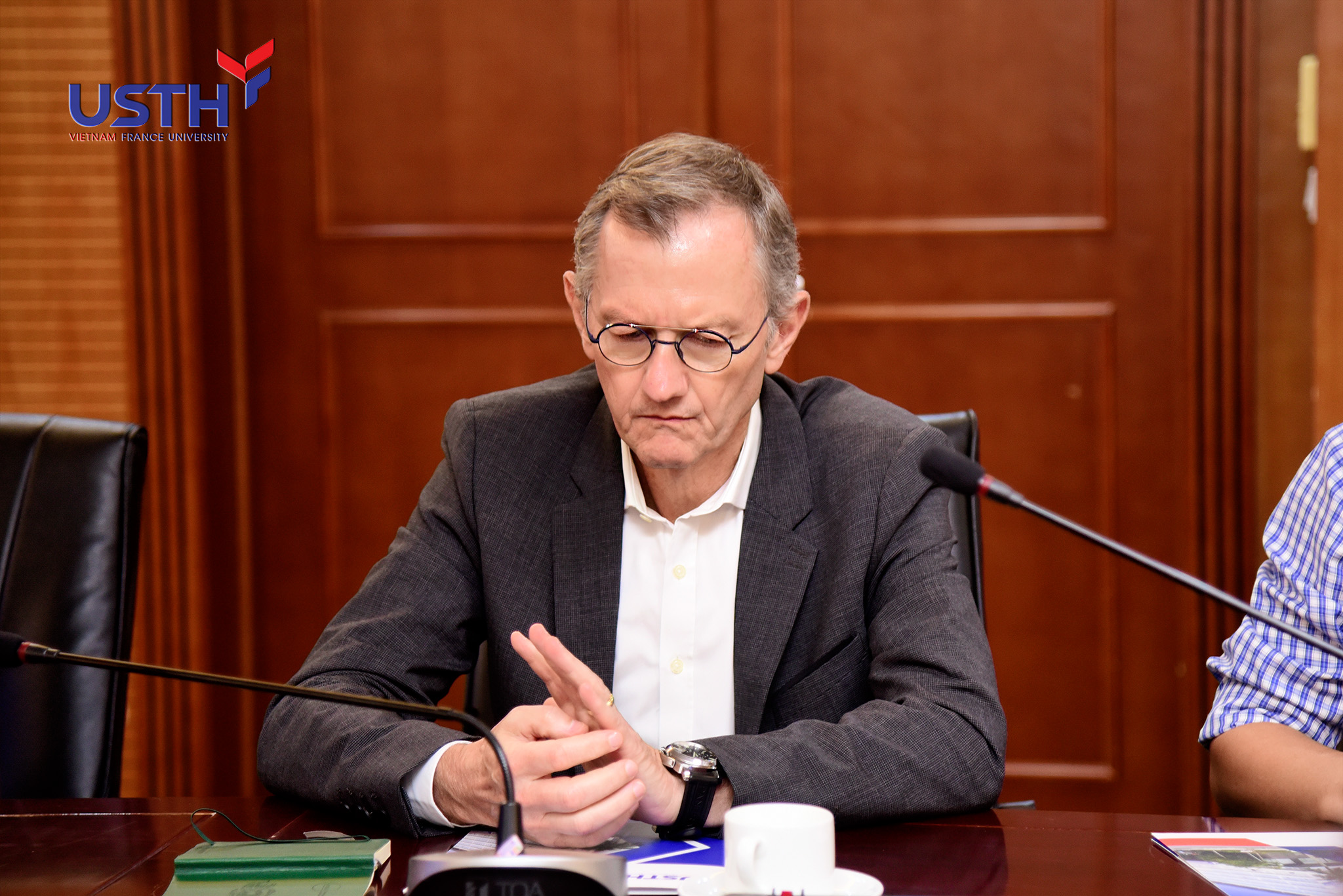 CNRS – The National Center for Scientific Research is one of the most important research institutions in the world. To meet the major present and future challenges, its scientists explore living things, matter, the Universe and the functioning of human societies. Internationally recognized for the excellence of its scientific work, the CNRS is a reference both in the world of research and development and for the general public. 
CNRS's scientific divisions include Mathematical Sciences & their Interactions, Information Sciences & Technologies, Engineering & Systems Sciences, Chemistry, Physics, Nuclear & Particle Physics, Earth Sciences and Astronomy, Ecology & Environment, Biological Sciences, Humanities & Social Sciences. CNRS now has 77 Labs and 10 representative Offices over the world.
The CNRS regional representative office in South-East Asia is located in Singapore. CNRS@CREATE was established in 2019 in connection with the CNRS scientific strategy to be a trans-continental research center with unique opportunities for students, staff, and researchers, a  place to build and to conduct large research programs and a program operator to manage new research and innovation collaborations. Under CNRS@CREATE, DesCartes Program is open to collaboration, recruiting Research Fellows, Research Associates and co-funding PhD thesis. 
Speaking at the meeting, Prof. Dominique Baillargeat expressed his impression of the research at USTH, especially the number of publications. He appreciated the knowledge and skills of USTH lecturers and would like to make collaboration to develop international joint projects. In addition, Prof. Jean-Marc Lavest emphasized that the strong scientific connection between countries is consolidated by research, lab systems and knowledge exchange.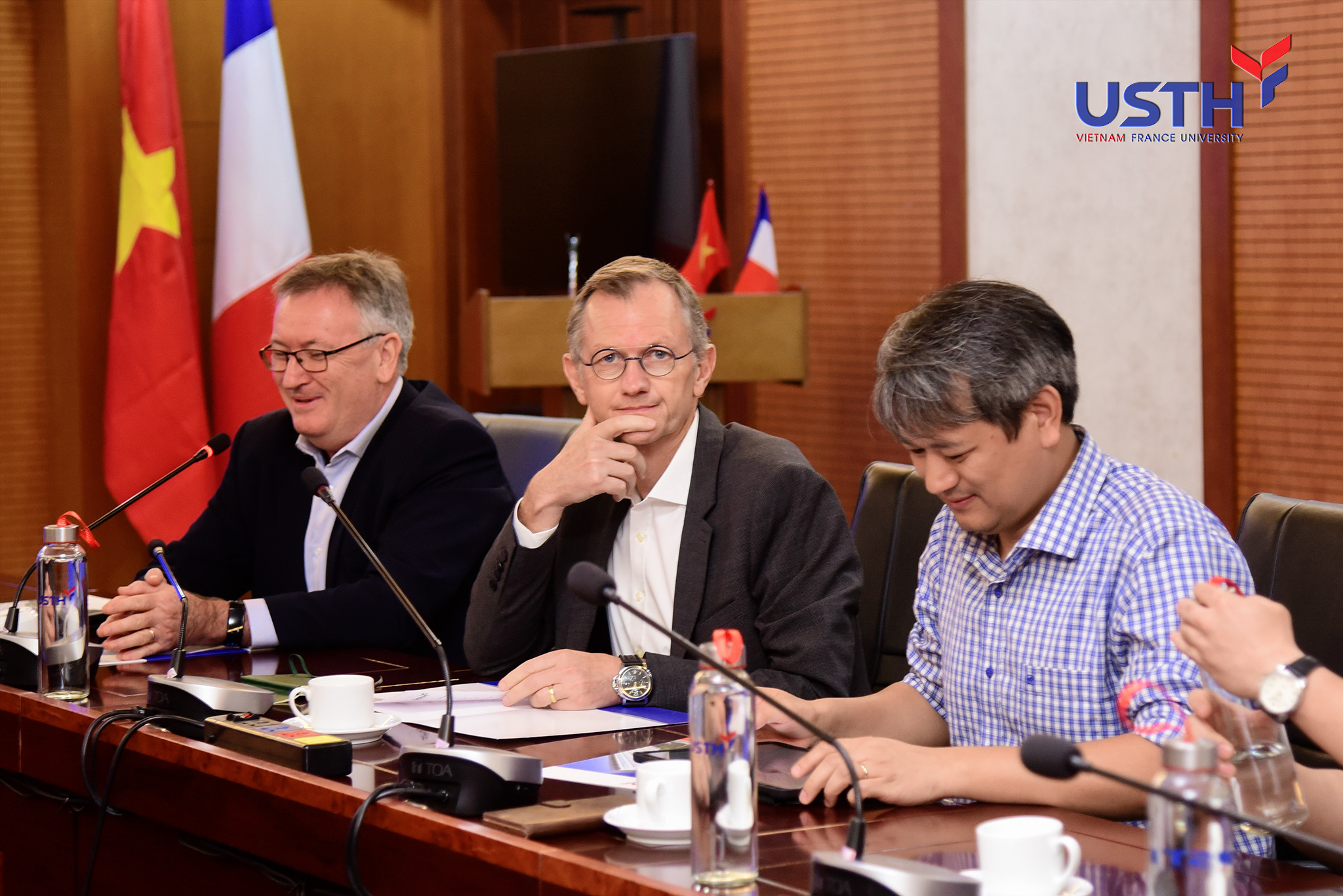 After the meeting, Prof. Dominique Baillargeat visited the laboratories, one of the strengths in terms of facilities serving for training and research of USTH, and had meetings with each department at USTH to discuss further on future projects and cooperation plans. 
Prof. Dominique Baillargeat has motivated USTH lecturers to continue striving for excellence in research and to contribute in the development of science and technology of the countries.