The 6th Rencontres de Quy Nhon: INTERNATIONAL BIOLOGY CONFERENCE 2023
FROM CONNECTIONS TO COLLABORATIONS
Venue: ICISE, Quy Nhon, Binh Dinh, Vietnam
Time: September, 20-22, 2023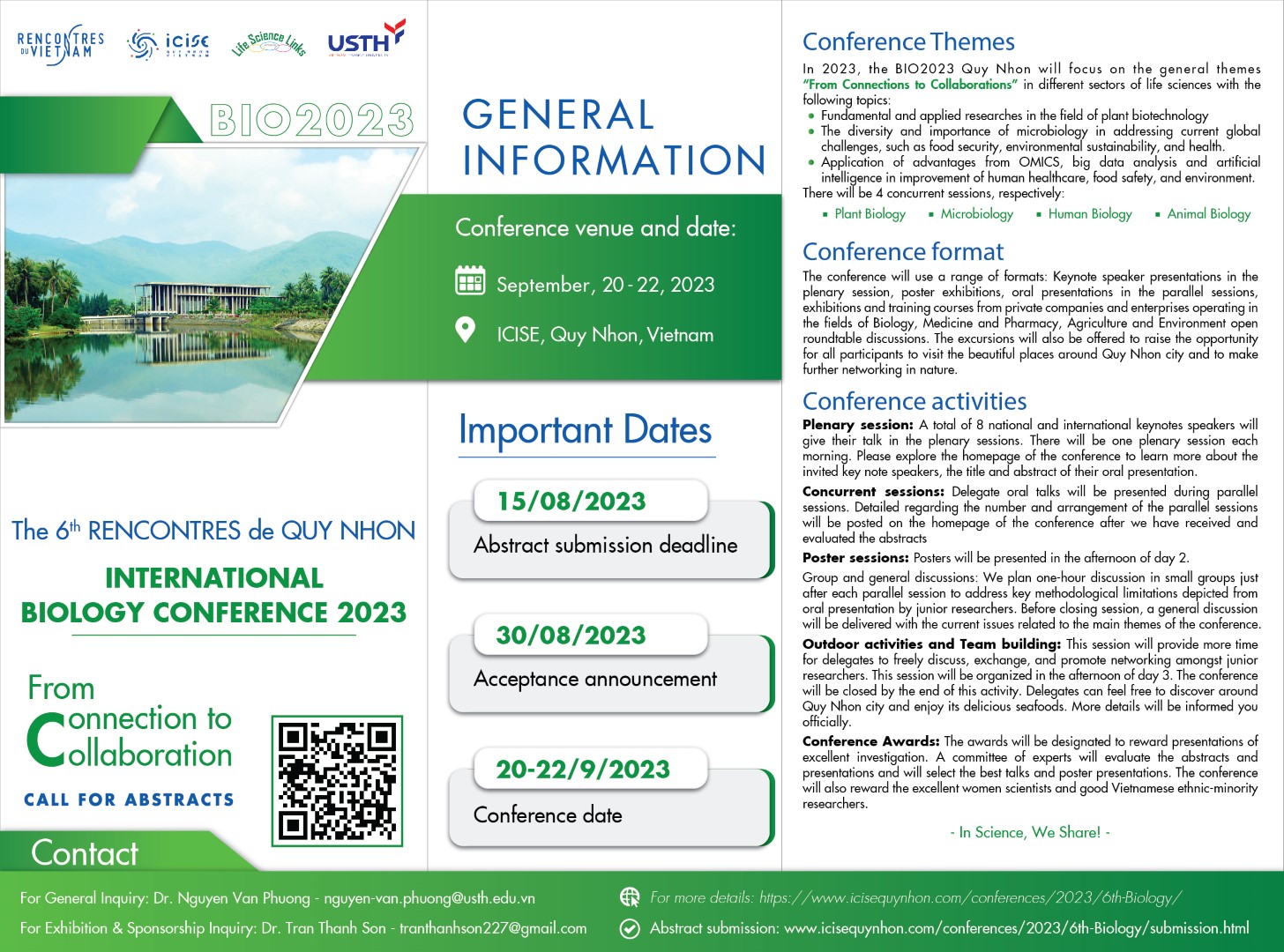 Meeting duration: Three-day program, 20th – 22th September 2023 (From Wed to Fri).
Day 1 (Wed, 20 September 2022): The thematic presentations reflecting the current achievements in science on different topics, including Plant Biology, Microbiology, Animal Biology, and Human Biology will be selected and presented by invited national and international keynote speakers and selected registering scientist/presenters.
Day 2 (Thu, 21 September 2023): Continuing with the thematic presentations from delegates to address current achievements of their scientific activities on different topics of the conference. The thematic open round-table discussions will provide a platform for exchange the practical issues related to the presenting themes and beyond such as the policies and opportunities to develop potential multifaceted collaborations. By the end of the Day 2, an outdoor gala party at the backyard of the ICISE will be organized to celebrate the five-year milestone of the conference.
Day 3 (Fri, 22 September 2023): The poster presentation, thematic exhibitions on essential high-end equipment, cutting-edge scientific tools, and techniques in Biotechnology. Afterward, the Summary and Closing session of the conference will be the final session.
The second half of day 3 will be denoted for an excursion around Quy Nhon city and outdoor activities to promote informal scientific communications and networking to bond scientists together.