Bastien is a French intern at the Department of Space and Applications at USTH. He is also an officer cadet, pursuing an engineering degree at École de l'air et de l'espace (EAE) in Salon de Provence, France. Let's meet Bastien to learn about his journey to Vietnam and USTH.
Why do you choose to take an internship in Vietnam and at USTH? 
I have studied at École de l'air et de l'espace (EAE), a military school that trains line officers for the French Air and Space Force. As an officer cadet and student, I underwent a three-part training program that included military and sports training, flying training, and academic training. This internship marks not only the end of my academic training but also the end of my training to obtain the engineering degree certified by the Accreditation Authority for French professional engineers.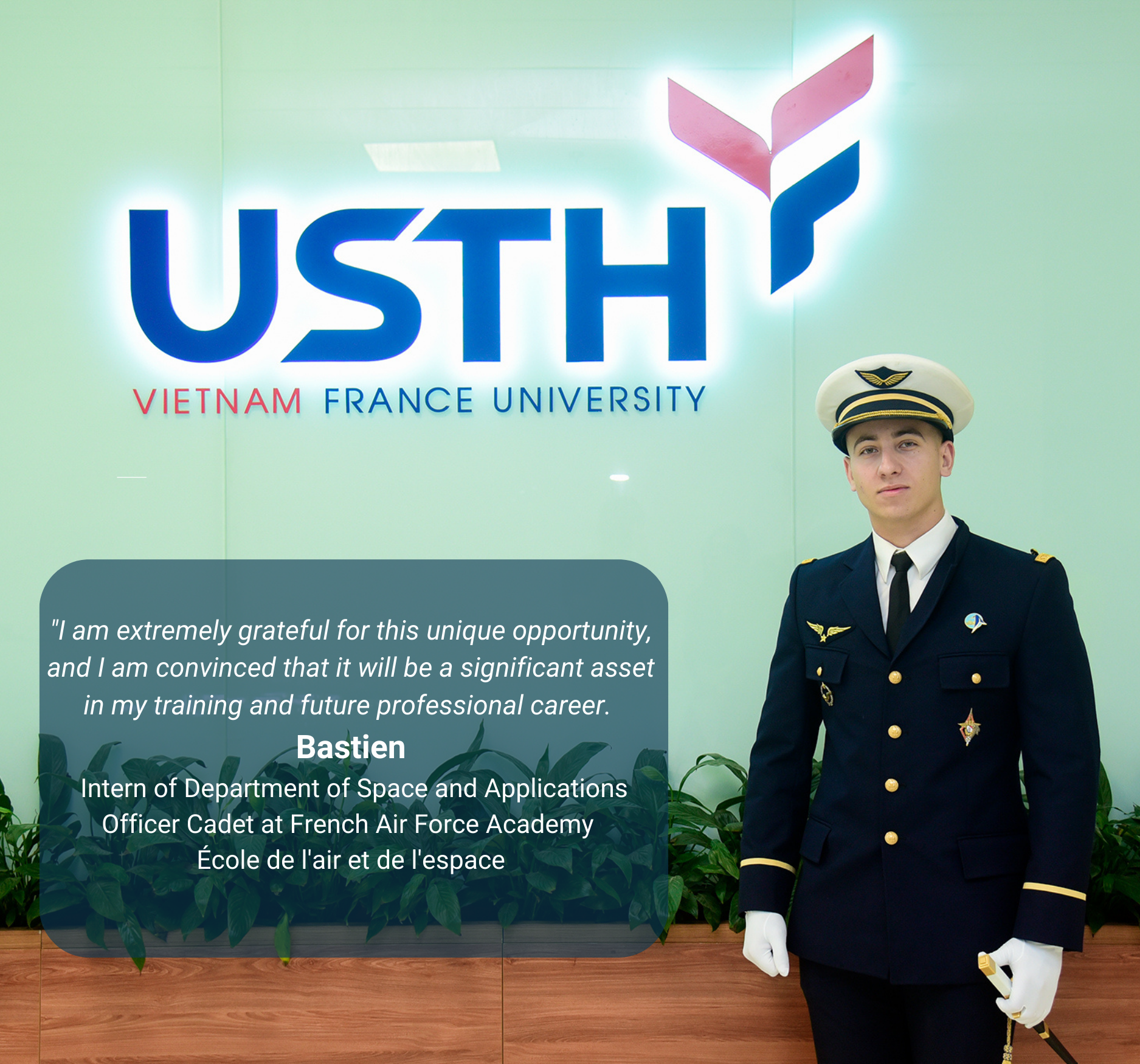 I've always been interested in the field of simulating and forecasting atmospheric phenomena. When I looked for internship opportunities, I was impressed by the Department of Space and Applications for their distinguished expertise in this field. So, I reached out to Assoc. Prof. Thanh Ngo-Duc, Co-Director of the Space and Applications Department, and he graciously accepted me into his team. I'm truly grateful to him for this opportunity.
Moreover, I chose USTH because of its location in Hanoi, a vibrant city steeped in culture. I hope that my internship will allow me to gain insight into a new aspect of Asia, improve my English language skills, and connect with amazing people. 
Can you tell us about a typical day at the Department of Space and Applications? 
My workday typically begins at 8:00 am in the department office. We often have lunch together with students, staff, and lecturers, enjoying delicious Vietnamese cuisine and fostering cultural exchange while strengthening camaraderie amongst colleagues. This culinary exploration adds a unique dimension to my overseas internship, making my experience here even more rewarding. Every Friday, the entire department convenes to share our respective progress, and these opportunities for communication are exceptionally enriching and invigorating, propelling our work forward.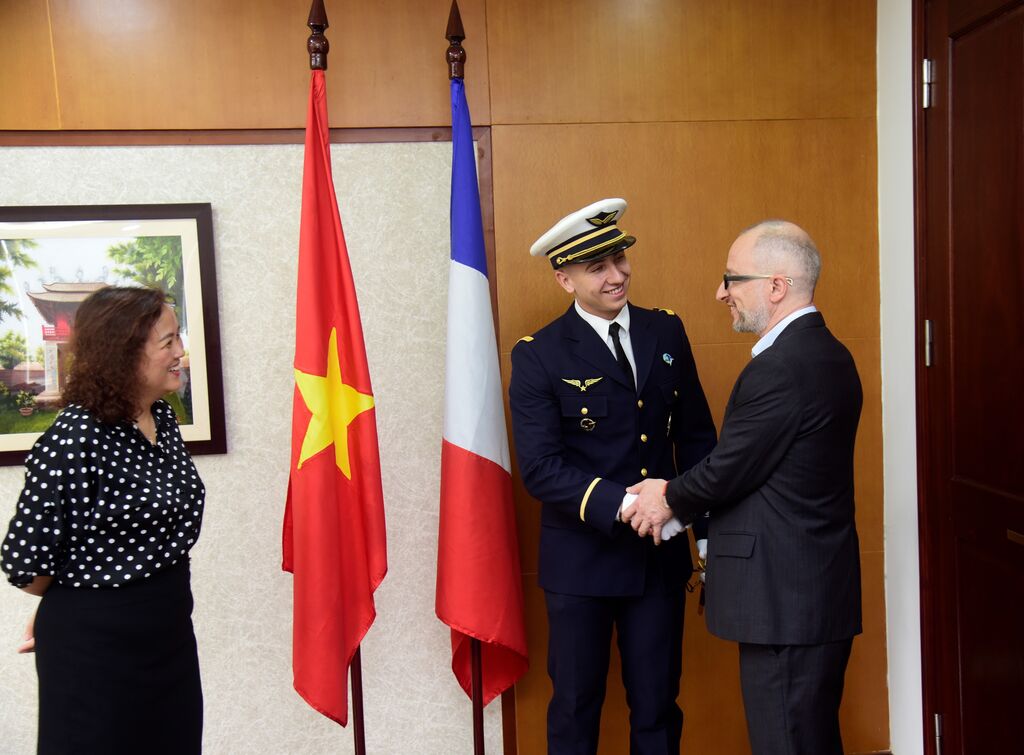 What do you think you gain the most from this internship? 
The internship is the final prerequisite for obtaining my engineering degree. Taking an internship at USTH gives me opportunities to be exposed to a new culture, enhance my engineering skills, and learn more about Meteorology. which is invaluable and enriches me personally. Working alongside local scientists gives me both challenges and invaluable lessons. I am able to understand the crucial role that atmospheric dynamics play in people's daily lives and appreciate the differences in methods and tools used to collect and interpret them. These skills will certainly be useful in my future career as a pilot.
Beyond these academic aspects, this internship is an opportunity for me to develop my open-mindedness, intellectual curiosity, and ability to adapt to new and complex environments. This experience is therefore perfectly in line with my training to become an officer who must not only possess solid technical skills but also demonstrate a high level of analytical and adaptive abilities, as well as an indispensable open-mindedness to work in an international context.
I am extremely grateful for this unique opportunity, and I am convinced that it will be a significant asset in my training and future professional career. As an air force officer cadet in training, my ultimate goal is to become a pilot in the Air and Space Force. Specifically, I aspire to become a fighter pilot.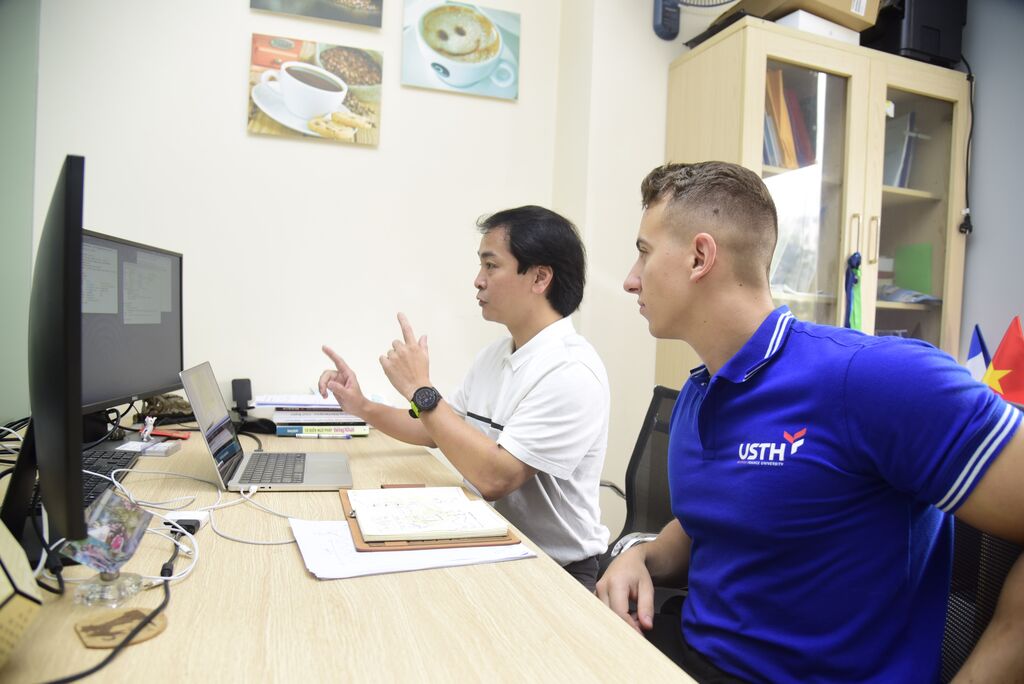 Your internship must be full of meaningful memories. Can you share with us some of them? 
I was lucky enough to have many memorable experiences during my time in Vietnam. 
I had opportunities to witness endless green rice fields and relax on the white sandy beaches surrounded by blue lagoons. Each trip is like an adventure to explore the beauty of Vietnam.  Your country is not only a naturally stunning country, but also a place rich in culture and traditions, with welcoming and warm-hearted people who take pride in their heritage and excellent local cuisine. Overall, my internship in Vietnam is a unique and unforgettable experience.
Do you have any advice for those who would like to become a pilot in the future? 
There are several paths to becoming a pilot. Personally, I completed my scientific baccalauréat, then attended preparatory courses at Vaugelas High School in Chambéry and at Parc High School in Lyon before taking the entrance exam and joining EAE. I believe that, above all, one must have self-confidence and a firm belief that they can achieve this goal, and do everything possible to make it happen.