On October 27, 2021, University of Science and Technology of Hanoi (USTH) solemnly held the Opening Ceremony of the academic year 2021-2022 to welcome nearly 800 new bachelor, master, and doctoral students.
This year, due to the Covid-19 epidemic, in order to ensure epidemic prevention regulations, the ceremony was held in a hybrid format with a limited number of attendees participating in the event in person.
Attending the opening ceremony was Acad. Prof. Chau Van Minh- President of Vietnam Academy of Science and Technology (VAST),  Mr. Nicolas Warnery- French Ambassador to Vietnam, Prof. Bernard Legube- President of USTH Consortium, Prof. Jean-Marc Lavest- Principal Rector, Assoc. Prof. Dinh Thi Mai Thanh- Rector, representatives of partners as well as all staff, lecturers, students of USTH.
The ceremony is a special and meaningful occasion that not only marks an important turning point in the academic journey of the new students but also provides an opportunity for USTH lecturers, staff, and students to look back on the accomplishment over the last academic year, and set new goals for the upcoming academic year 2021-2022.
Delivering his speech at the opening ceremony, Prof. Jean-Marc Lavest- Principal extended his congratulations and thanks to nearly 800 fresh bachelor, master, and doctoral students for trusting and choosing USTH for their upcoming academic journey. In spite of having to start the new academic year with online learning, he expressed his belief that Gen 12 will overcome difficulties and quickly catch up with the new teaching methods, knowledge, and learning environment at USTH.
Prof. Jean-Marc Lavest emphasized that in the fourth industrial revolution, Vietnam is rising rapidly to become one of the fast-growing Asian countries in science- technology- engineering. In that context, USTH provides a nurturing environment, leading, supporting, and equipping them with not only knowledge but also necessary skills so that they can be ready to enter the job market and succeed.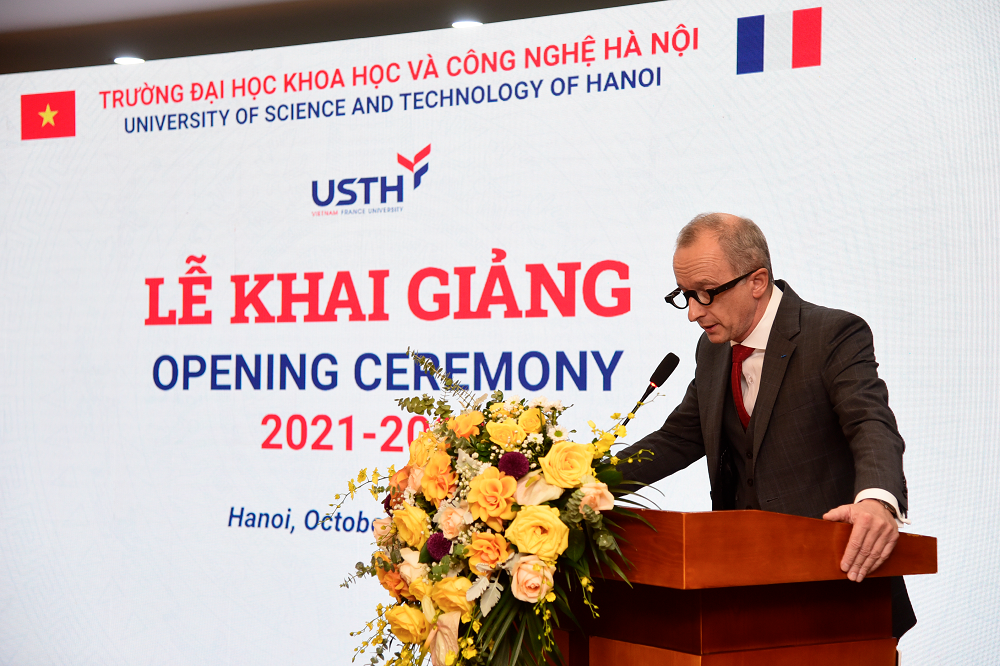 Prof. Jean-Marc Lavest also mentioned that the construction project of the USTH campus in Hoa Lac Hi-Tech Park has officially kicked off, marking an important milestone in the development of the University. The project is architecturally designed with Vietnamese and French cultural symbols, following the model of French and European universities with modern functional areas including lecture halls, practice laboratories, research laboratories, library, gymnasium, and dormitory… It is expected to be completed by the end of 2023.
In particular, USTH is also actively working with French universities to open bachelor's programs, which allow students of Chemistry, Biotechnology, and Information Technology programs with excellent academic results to have a one-year exchange in France.
In the previous academic year, the spread of the Covid-19 epidemic in Vietnam caused a disruption in the training and research activities of many universities across the country. Under that circumstance, USTH has taken many preventive measures to protect the health and safety of the staff, lecturers, and students as well as ensure the quality of the training and research. Acad. Prof. Chau Van Minh- President of VAST congratulated and highly appreciated the efforts and achievements of the Management Board, staff, lecturers, and students of the university.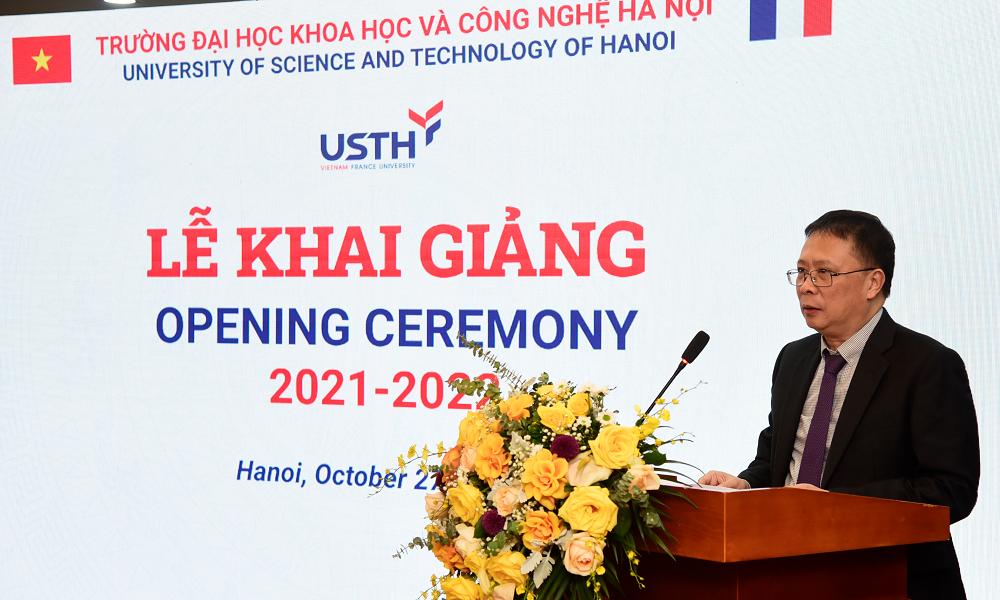 Specifically, in terms of training, the reputation of USTH has been more and more acknowledged, showing that the number of enrolled students this year increased by 70% compared to 2020, which is the highest number of enrolled students per academic year since its establishment. In addition, USTH has been strengthening its advantages in training in the fields of science-technology-engineering by opening two new bachelor's programs in Data Science and Automotive Engineering, increasing the total number of bachelor majors of the university to 16.
In terms of research, this year, the USTH number of scientific publications increased by 30%, ranking third among the research institutions of VAST.  On average, 1 lecturer publishes 1,2 SCIE papers per year, approaching the productivity of universities in the region and the world.
Acad. Prof. Chau Van Minh expressed his thanks to the Government of France and the French Embassy in Vietnam for their strong support for USTH during its first 10 years of establishment and development. He also expressed his hope that they would continue to give support to USTH in its training and research activities in the future so that it would soon accomplish its goal to become an excellent university in the region, contributing to the cooperation relationship between Vietnam and France.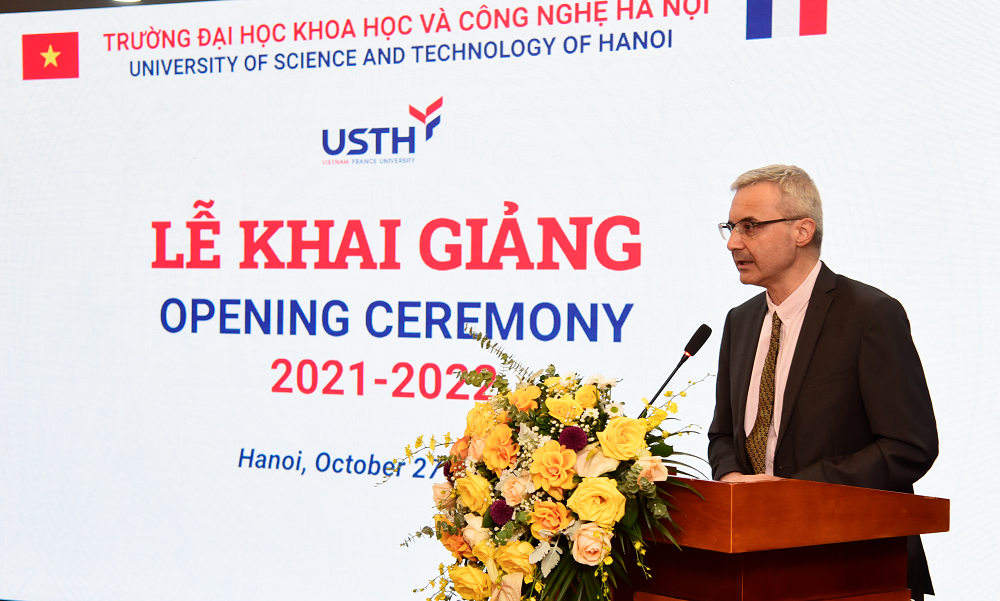 Speaking at the ceremony, Mr. Nicolas Warnery- French Ambassador to Vietnam congratulated the freshmen on entering a university that is reaching a mature stage of development in training and research. With close collaboration with French universities and research organizations, Mr. Nicolas Warnery believes that USTH is the "ideal" choice for enthusiastic young people who are passionate about science, technology, and engineering.
On behalf of the USTH Consortium, Prof. Bernard Legube affirmed that they would continue to strongly support USTH in training and research, in order to create favorable conditions for the university to develop towards the goal set by the Vietnamese and French governments.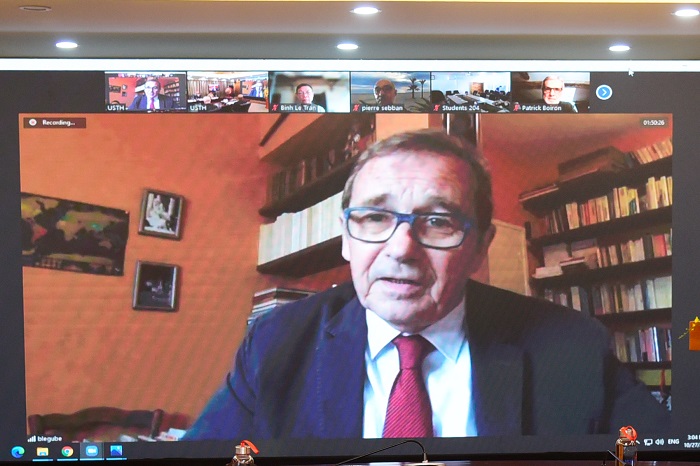 Prof. Bernard Legube emphasized that the Consortium would assist USTH in working with French universities to build double degree bachelor's programs as well as maintain and improve the quality of current double degree master's programs while increasing internship and academic exchange opportunities in France for USTH students.
Representing Gen 12, Pham Gia Minh Tu, a freshman of Applied Environmental Science bachelor's program, expressed her honor in becoming a new student of USTH and believes that "USTH will be the ideal place for me to entrust my youth and my ambition to become a successful environmental expert in the future."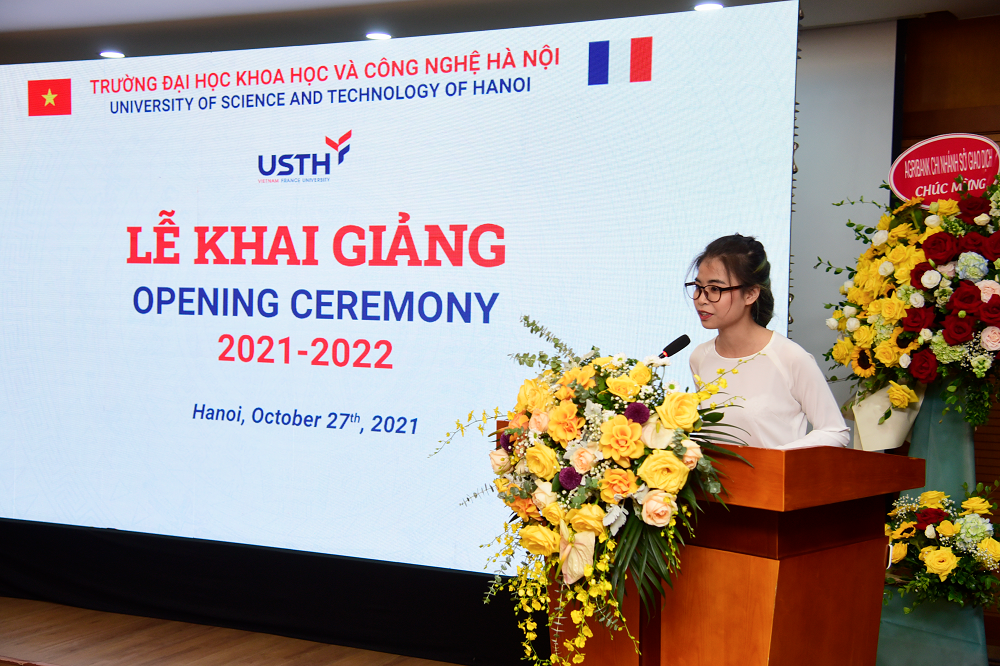 Pham Gia Minh Tu expressed her gratitude for the encouragement and support from the Board of Directors, departments, and senior students to new students during their initial stage at USTH, and at the same time expressed her determination to study hard as well as actively participate in the University's activities to help to spread the image of USTH to the next generations of students.
The ceremony is also an opportunity to commend individuals and groups for their outstanding achievements and contributions to the activities of USTH.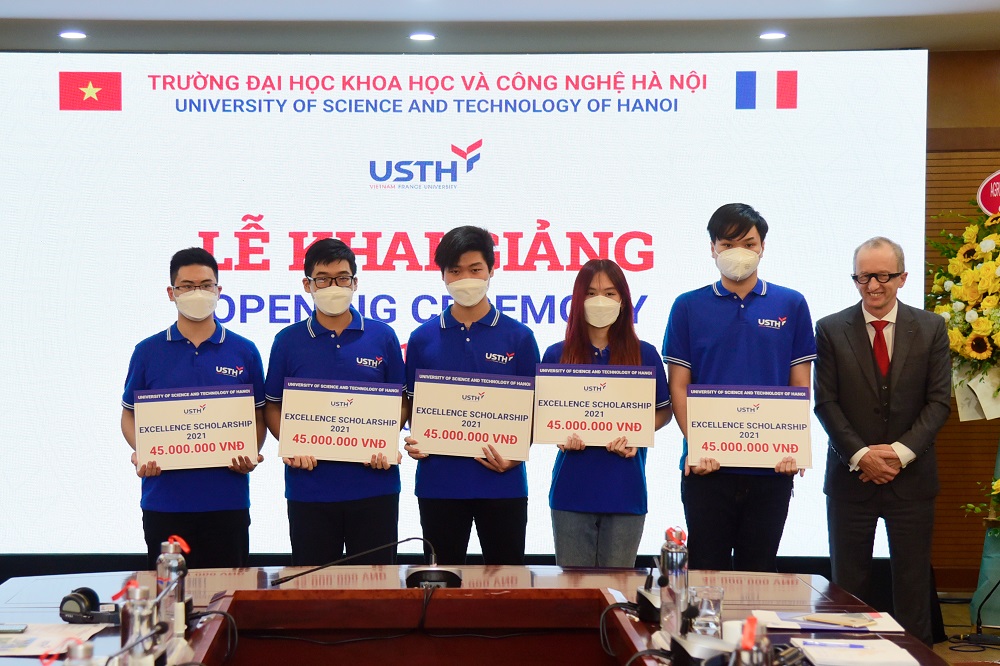 In the academic year 2021-2022, USTH grants the highest amount of scholarships ever with a total value of 6.8 billion VND for more than 300 students. There is a full scholarship of a 3-year bachelor program granted to Phan Tai Tinh Tri, a new student of the Chemistry Program for achieving the first prize in the National Excellent Student Competition in Chemistry for the academic year 2020-2021 and being directly admitted to USTH.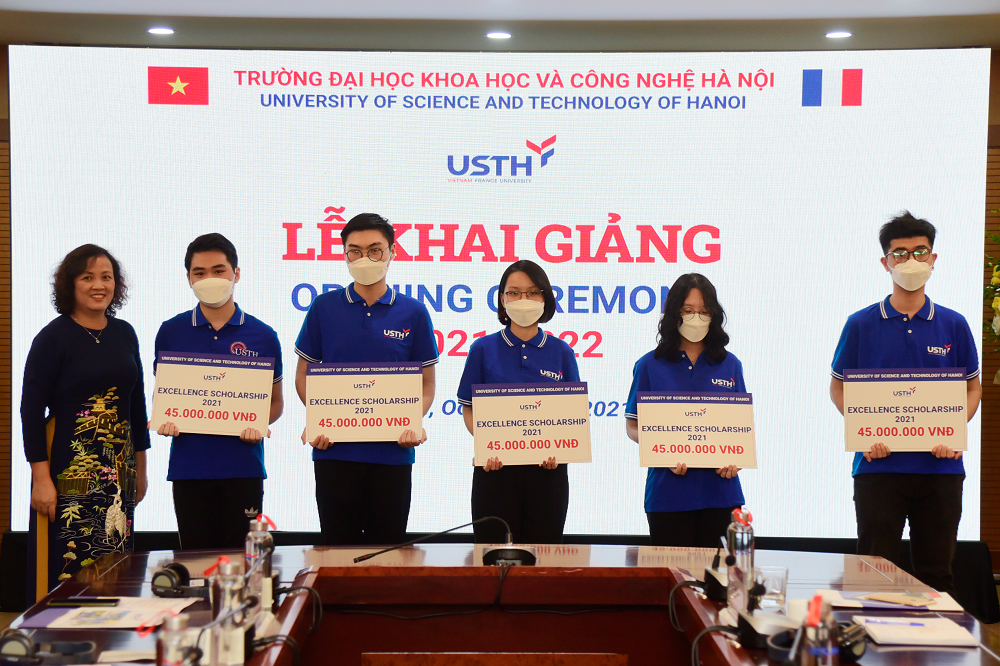 On this occasion, the strategic partners of USTH also granted scholarships for students with excellent academic achievements: Agribank awarding scholarships for the valedictorians of 16 bachelor's programs, Vietcombank awarding scholarships to 5 students with difficult circumstances, VMO Holdings awarding scholarships of 20 million VND to students of Department of Information and Communication Technology, Thai Minh Pharmaceutical Company awarding scholarships of 20 million VND to students of the Department of Life Sciences.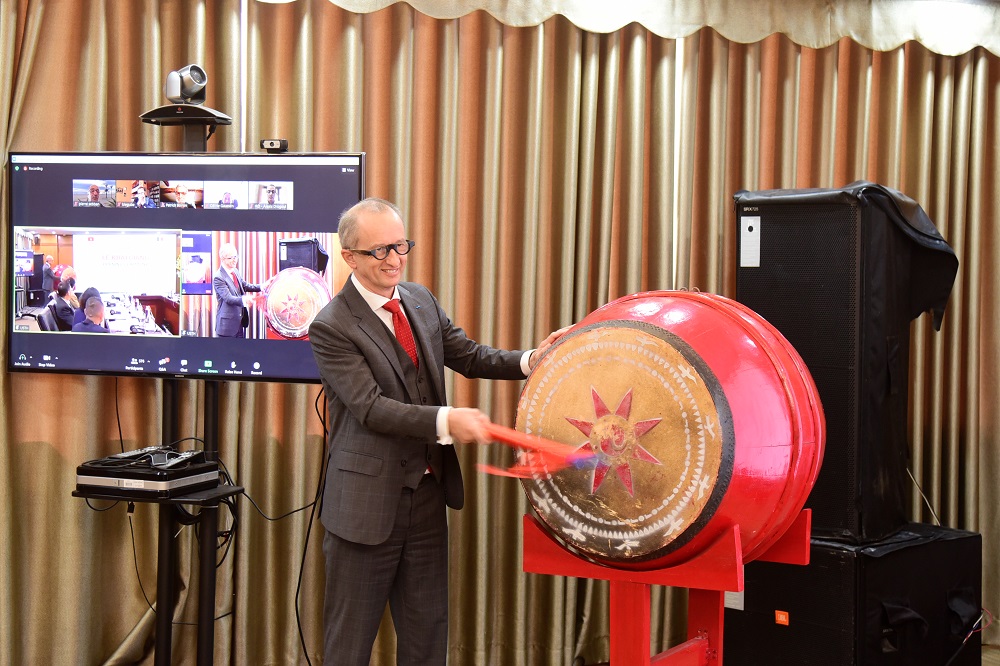 At the end of the ceremony, in an atmosphere of excitement, Prof. Jean-Marc Lavest beat the drum to kick-off and welcome the academic year 2021-2022.