On December 17, 2020, The University of Science and Technology of Hanoi (USTH) held the Inauguration Ceremony of Fablab USTH- an open creative space for students with a passion in science- technology- engineering.
The event was attended by Prof. Jean-Marc Lavest- Asia-Pacific Regional Director of Francophonie University Association (AUF),  Mr. Chekou Oussouman, representative of Asia-Pacific Regional Office of Francophone International Organization; Mr. Eric Molay, Attaché of Science and University Cooperation, French Embassy in Vietnam and representatives of universities, companies in Hanoi.
From USTH, the event was attended by Prof. Etienne Saur, Principal Rector; Assoc. Prof. Dinh Thi Mai Thanh, Rector together with the staff, lecturers, and students of the university.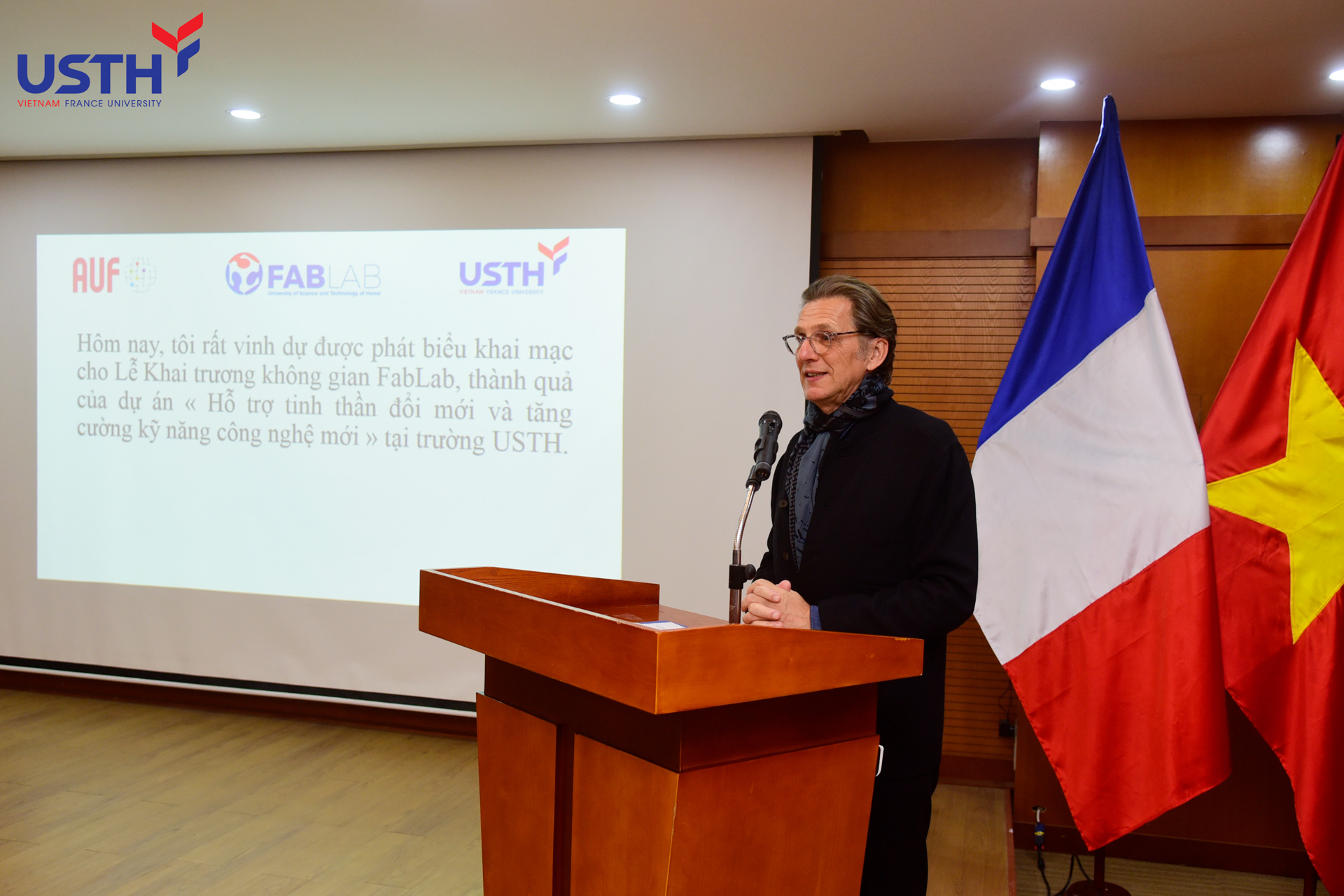 In the opening speech, Prof. Etienne Saur said Fablab USTH is the collaboration project between USTH and AUF within the framework of the program "Campus of the New Francophone Universities" with the aim to create an open creative space for Vietnamese young people in the fourth industrial revolution. Prof. Etienne Saur expressed his thanks to AUF for their trust and support as well as praised the Fablab USTH team for their efforts to set up a solid foundation for the project.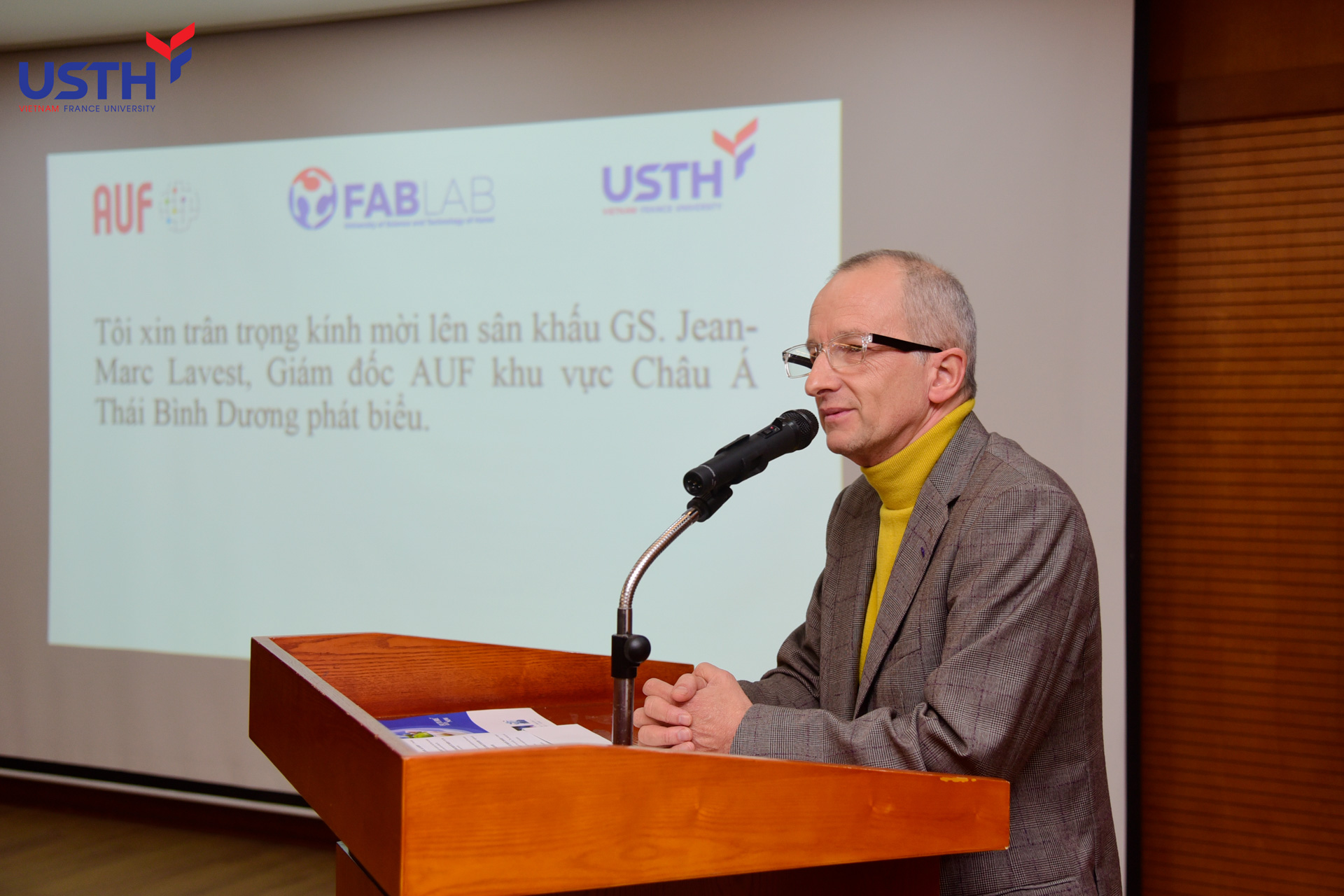 On behalf of AUF, Prof. Jean- Marc Lavest expressed his delight at this important step of Fablab USTH. In the Asia Pacific region, AUF is currently financially supporting 3 similar projects, of which Fablab USTH receives funding with a total budget of about 50,000 euros.
He also said that the establishment of Fablab USTH follows the higher education system reform program and the enhancement in vocational education orientation of the Vietnamese government and expressed his hope that Fablab USTH will help students concretize the knowledge they have learned and create conditions for university lecturers to build more advanced teaching programs.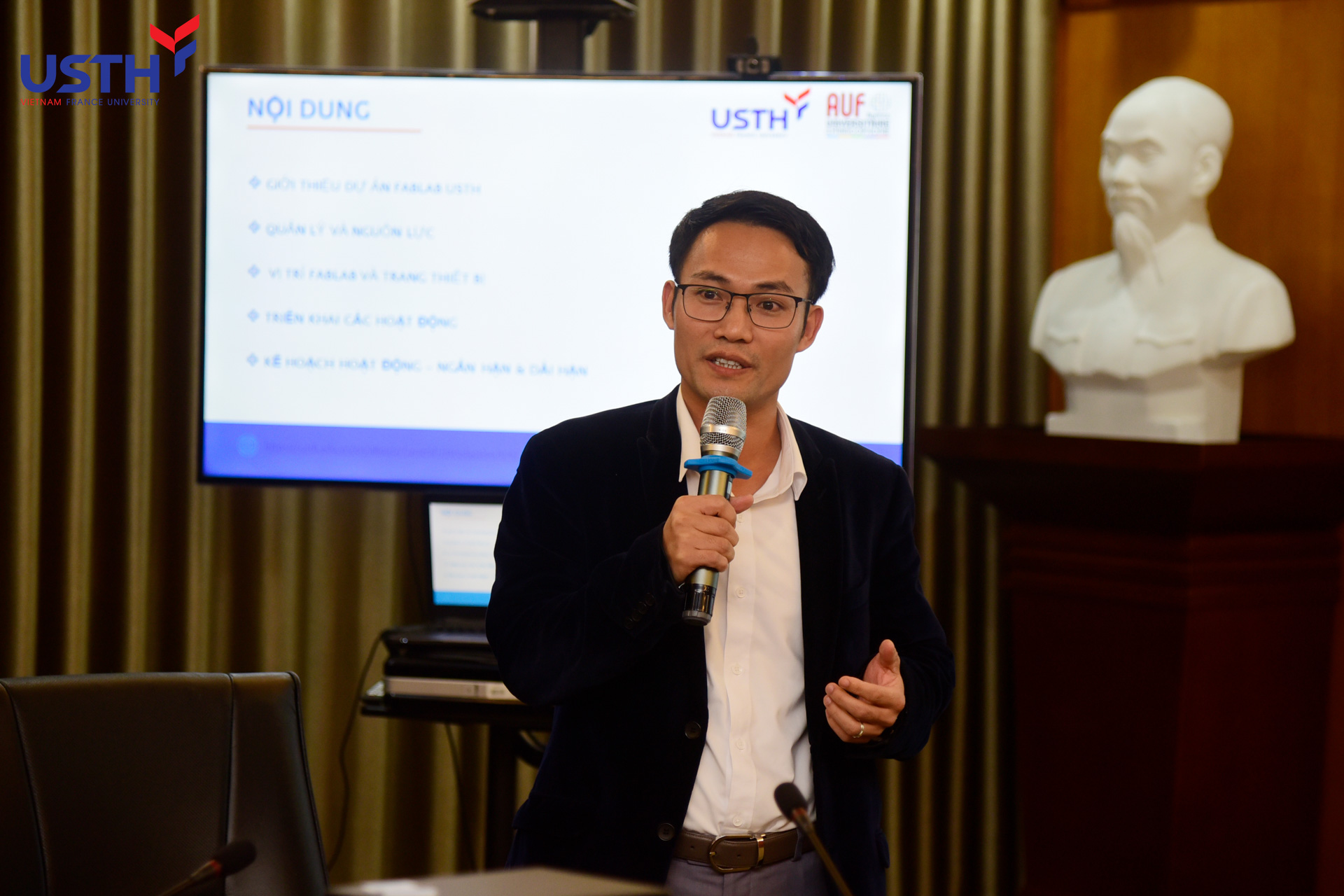 Dr. Nguyen Xuan Truong, Project manager of Fablab USTH 
Also at the ceremony, Dr. Nguyen Xuan Truong, the project manager of Fablab USTH reported the activities of the project in recent years and plans for the coming time.
Although not officially launched, Fablab USTH has been operating since 2018 with many activities to connect and ignite passion for creativity in the community such as successfully organizing 24 hours Hackathon Creative Contest, participating in STEM workshops, launching training courses using 3D printers, training STEM applications at high schools.
With the support from AUF, Fablab USTH is built with 4 spaces: Training Space, Co-working Space, Design Space, and Pre-production Space.
With state-of-the-art machinery and tools to assist in searching and testing new ideas such as 3D printers, CNC machines, milling machines, lathes, boards, automation devices (PLC), Wacom, 2D, 3D modeling software, Fablab USTH will be a place to exchange, learn and turn ideas into products for students with passion in science-technology-engineering.
Dr. Nguyen Xuan Truong said that in the coming time, Fablab USTH will expand their cooperation network with the business sector, supporting the applied projects by students and continue to organize more activities to spread and nature the passion for creativity, innovation, and "can-do" spirit among the young generation of Vietnam.
At the end of the ceremony, Prof. Jean-Marc Lavest, Mr. Etienne Rolland-Piegue, Prof. Etienne Saur, and Assoc. Prof. Dinh Thi Mai Thanh cut the ribbon to officially launch Fablab USTH.