1. Electronic and signal analyzer
Oscilloscope

Signal generator

Programmable power supply

Multimeter

Linear Power Supply

Synthetic frequency generator

Spectrum Analyzers Axitext ROHDE & SCHWARZ FSP
1.1. Electronic Test Equipment Set
Electronic test equipment is used to generate signals and obtain responses from the electronics under test. In this way, proper operation of the device can be demonstrated or faults in the equipment can be traced. Using electronic test equipment is essential to any serious work on electronic systems.
Oscilloscope
An oscilloscope is a type of electronic test instrument that graphically displays various signal voltages, usually as a corrected two-dimensional plot of one or more signals as a function of time. The displayed waveform can then be analyzed for properties such as amplitude, frequency, rise time, duration, distortion, and others.
The oscilloscope can be adjusted to observe the repeated signals as a continuous wave on the display. Storage oscilloscopes can record a single event and display it continuously, so users can observe events that would otherwise appear too short to be seen directly.
Oscilloscopes are used in science, medicine, engineering, automotive and telecommunications industries. Multi-purpose tool used for electronic equipment maintenance and laboratory work. Specialized oscilloscopes can be used to analyze car ignition systems or to display heart rate waveforms in the form of an electrocardiogram.
Function generator
A function generator is usually a piece of electronic or software test equipment used to generate different electrical waveforms over a wide frequency range. Some of the most common waveforms generated by the function generator are sine wave, square wave, triangle wave, and sawtooth wave. These waveforms can be repeatable or one-time (requires internal or external trigger source). The integrated circuits used to generate waveforms can also be described as function generating ICs.
In addition to generating sine waves, function generators can often generate other repeating waveforms including sawtooth and triangular waveforms, square waves, and pulses. Another feature included on many function generators is the ability to add a DC offset.
Function generators are used in the development, testing, and repair of electronic equipment. For example, they can be used as a signal source to test an amplifier or to feed an error signal into a control loop. Function generators are mainly used to work with analog circuits, related pulse generators are mainly used to work with digital circuits.
Programmable DC power supply
A programmable power supply is a power supply that provides remote control of the output voltage(s) via an analog control signal that can be adjusted using a keypad or rotary switch commonly found on the front panel. before. RS232, GPIB, USB or other computer interfaces can also be used. Common programming functions for power supplies include voltage and current output.
Digital multimeter
A digital potentiometer is a test tool used to measure two or more electrical values—primarily voltage (volts), current (amps), and resistance (ohms). It is a standard diagnostic tool for technicians in the electrical/electronic industries.
Digital multimeters have long replaced analog analog meters due to their ability to measure with greater accuracy, reliability, and increased impedance.
Linear Power Supply
A linear power supply is a power supply unit (PSU) that does not contain any switching or digital components. It has some outstanding features compared to switching PSU such as very low noise and ripple, immunity to mains noise, simple, powerful. They can also produce very high voltages (thousands of volts) and very low voltages (less than 1V). They can easily produce multiple output voltages.
1.2. Spectrum Analyzers Axitext ROHDE & SCHWARZ FSP
The spectrum analyzer measures the magnitude of the input signal relative to the frequency throughout the instrument's frequency range. The main use is to measure the power of the spectrum of known and unknown signals. The input signal that most popular spectrum analyzers measure is electrical; however, the spectral components of other signals, such as sound pressure waves and optical light waves, can be examined through the use of an appropriate probe.
By analyzing the spectrum of an electrical signal, students and instructors can observe the dominant frequency, power, distortion, harmonics, bandwidth, and other spectral components of the signal that are not easily detected. present in the time domain waveform. These parameters are useful in characterizing electronic devices, such as wireless transmitters.
The spectrum analyzer display has frequency on the horizontal axis and amplitude displayed on the vertical axis. To the casual observer, a spectrum analyzer looks like an oscilloscope, and in fact, laboratory equipment can act as an oscilloscope or a spectrum analyzer.
The FSP spectrum analyzer stands out for its innovative measurements and a wide range of standard functions. Designed by the RF experts at Rohde & Schwarz, all spectrum analyzers feature exceptional signal integrity, high value and excellent reliability.
Spectrum analyzers are used for many measurements including:
Frequency response, noise and distortion characteristics of all types of radio frequency circuits

Sources of interference and occupied bandwidth in telecommunications

Basic pre-compliance check for EMC test
Other measurement techniques involve setting up a spectrum analyzer to examine the harmonics of an audio signal, using reflection or refraction techniques to separate the wavelengths of light with a spectrum and boundary analyzer. oscillations at different component frequencies among many other techniques. The measurement techniques used will depend on the specific application.
2. Unmanned Aerial Vehicle (UAV) integrated multispectral and hyperspectral cameras
UAV integrated RGB camera and RTK modules Phantom 4 RTK

UAV integrated multispectral camera and RTK modules Phantom P4 multispectral

UAV Matrice 600 Pro  integrated hyperspectral camera OCI-F
2.1. UAV Phantom 4 RTK 
The Phantom 4 RTK Quadcopter from DJI is designed to deliver centimeter-level accurate mapping that can be extremely useful for surveying, construction sites, and inspections. Utilizing an RTK receiver on the top of Phantom 4, the Phantom 4 RTK can achieve 1cm+1ppm RTK horizontal and 1.5cm+1ppm RTK vertical positioning accuracy. In addition to the RTK receiver, the Phantom 4 RTK can achieve such accuracy by DJI's TimeSync system and the gimbal camera's calibration process. The camera is equipped with a 1″ 20MP CMOS sensor using larger pixels and has a maximum ISO of up to 12,800 as well as increased contrast. The camera has its radial and tangential lens distortions measured. They are added to the metadata of all captured images, allowing for accurate post-processing that accounts for the distortions.
The Phantom 4 RTK can perform mapping duties in real-time and When mapping, pilots can utilize the Photogrammetry and Waypoint Flight modes in the GS RTK app. This gives mapping-specific functionality, such as selecting flight paths and directly loading KML area files. Combine it all and you have an enterprise-level mapping solution that can be used right out of the box.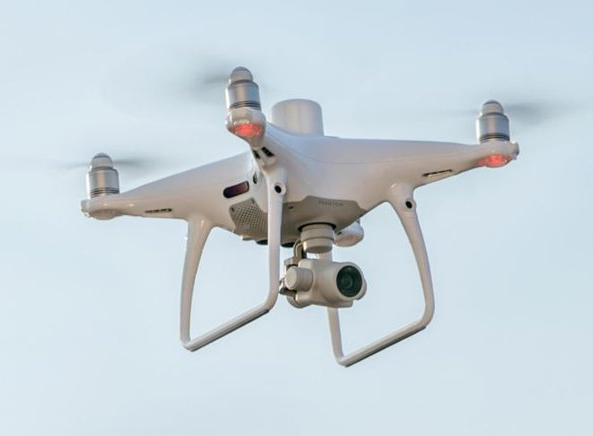 2.2. UAV Phantom P4 Multispectral 
DJI Phantom 4 Multispectral is DJI's enterprise drone with precise data on the state of high precision vegetation created for agriculture. It is equipped with an integrated spectral sunlight sensor for the acquisition of extremely accurate and precise multispectral images. Data collection is a built-in stabilized imaging system and a set of 5 2MP multispectral cameras with global shutter (Blue, Green, Red, Red Edge and Near Infrared) and an RGB camera (visible spectrum), all mounted on a 3-axis stabilized gimbal.
UAV multispectral imagery can be helpful to agriculture professionals by providing information invisible to the human eye across the electromagnetic spectrum. Having access to this data and the subsequently obtained Vegetation Index data such as NDRE and NDVI, farmers can make timely, informed decisions on crop treatment, lowering costs, saving resources, and maximizing yields. Additionally, routine inspections and maintenance involving plants can be made smarter and more efficient when using the P4 Multispectral – leverage its actionable multispectral insights to monitor forest health, measure biomass, map shorelines, or manage riparian vegetation while protecting habitats or ecosystems, and much more.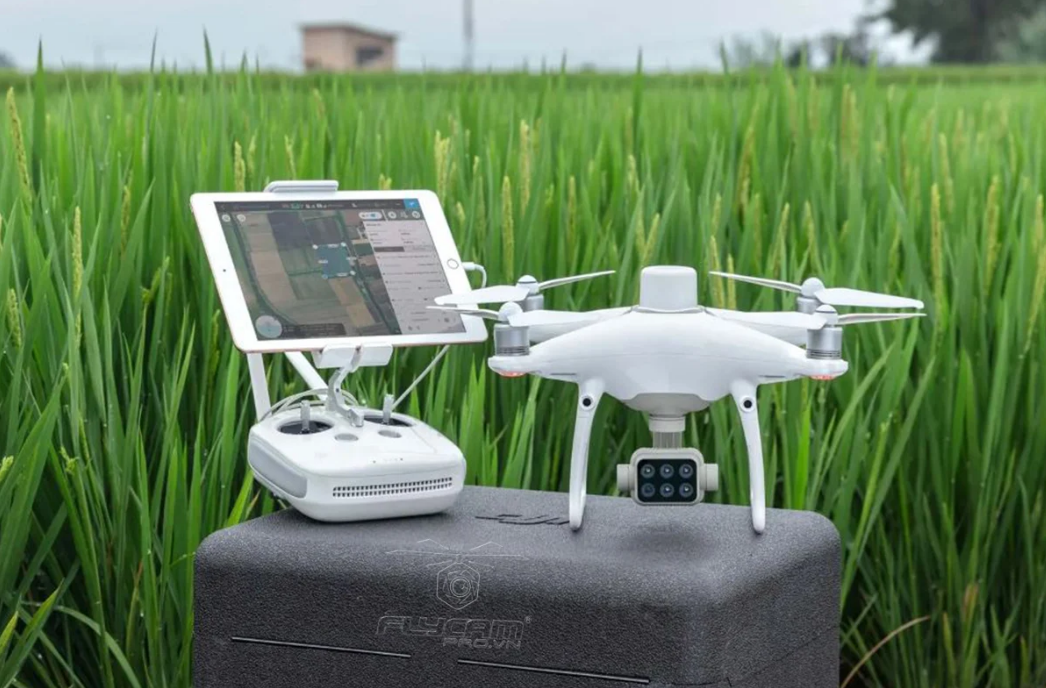 2.3. UAV integrated Hyperspectral imager
The OCI™­‐F  camera is a miniaturized push-broom hyperspectral camera covering the full VIS-­‐NIR (400-­‐1000 nm) wavelength range, with a SuperSpeed USB 3.0 interface. It features ultra-­‐compactness (14 cm x 7 cm x 7 cm) and light weight (~ 570 g) with fast data transfer rates (up to 60 fps). As an innovative "true push-­‐broom" imager: one can simply move the imager by hand or move the sample to finish the scan. Not dependent on a constant scanning speed, the OCI-­‐F Series offers versatility on various platforms such as UAVs with perfect hyperspectral image stitching. Compactness, fast imaging, simple operation, and intuitive software make the OCI-­‐F's THE choice for first-­‐time practitioners and old-­‐pros alike.  They're Ideal for   applications   such   as   precision   agriculture, remote sensing, conveyor sorting, forensics and all airborne applications.
The OCI-F camera is mounted on a Matrice 600 Pro, a hexacopter from DJI designed for professional video and industrial imaging applications. It is centered around DJI's advanced A3 flight control system and incorporates the Lightbridge 2 system for HD resolution, low-latency monitoring via SDI, HDMI, and USB outputs on the controller. For camera support, the M600 works with Zenmuse Z15 series gimbals, the Ronin-MX gimbal, and Zenmuse X Series gimbal/camera hybrids. The M600 comes almost-ready-to-fly (ATF), including controller (transmitter), flight batteries, charger, flight controller, and sundries. Additional hardware needed may include a gimbal, camera, as well as any flight controller add-ons. Some assembly is required.
3. High Performance Computer system
LOTUS-REMOSAT clusters
4 storage nodes (1 as headnode), 1 login node & 21 compute nodes

Total number of computing cores: 872

Peak performance: 57 Tflops

Total storage size: ~ 320TB 

Total memory size: ~ 4TB

Interconnect network: Mixed Infiniband 56Gbps and 100Gbps
The system is used for the simulation of global, regional phenomena such as sea surface temperature, ocean flows, precipitation, tropical storms, climate change etc. 
4. Spectrometer
USB2000+ spectrometer with Enhanced Sensitivity, Preconfigured 350-1000nm, A miniature spectrometer pre-configured for general UV-VIS measurements. The USB2000+ is a versatile, general-purpose UV-Vis spectrometer for absorption, transmission, reflectance, emission, color and other applications. Covering a wide wavelength range, from 350 to 1000 nm, this high-performance spectrometer fits into the palm of your hand giving your measurements new flexibility. Using the modular approach, we can customize measurement with a wide array of sampling accessories and light sources.
Modular – covers the 350-1000 nm range and connects to light sources, cuvettes and other accessories

Fast – integration time is 1 ms – 65 seconds

Portable – fiber optics based spectrometer you can bring to the sample

Compatible – triggering functions synchronize the spectrometer to other devices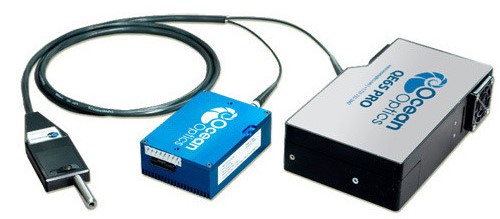 5. Satellite model VNMicrosat
It is a satellite system model invested, researched and manufactured by the cooperation between the Department of Space and Applications and the Vietnam National Space Center (VNSC). The model includes subsystems such as: Satellite attitude stabilization system, Solar panel system, Photographic system, Wireless communication system, Ground control station.
The model is used for practice purposes by students and students of SA faculty